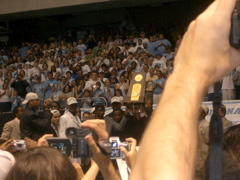 Like a few thousand other Tar Heel fans, Tucker and I went down to great the returning National Champions this afternoon.
We were right in front of the Press Row on the floor which meant that we were stretching a lot to see, but the basketball team is mostly really tall people, so we could see them better than the pictures here show.
Sean May was video taping the whole thing from on stage from the moment he walked out until he left. He's going to have some great tape to show his kids. Remember that he had his father's tape of his National Championship from the 70s with him while in Saint Louis.
I'm trying to recall which player led the team in a song. If you were there and know, leave me a comment.
The whole place was the right shade of blue and the feelings were high and proud. GO HEELS!