Service Now (UK) pointed me to their new infographic that accompanies their longer report on "Today's State of Work: The Productivity Drain."
Of course my eyes scanned through the document stopping at "THE CAUSES OF WASTED TIME: Three reasons why admin work takes so much time." Reason 2 (of the three, the center piece) stopped me.
First I saw:

Then I saw exactly what Outdated and Inefficient technologies that they had identified: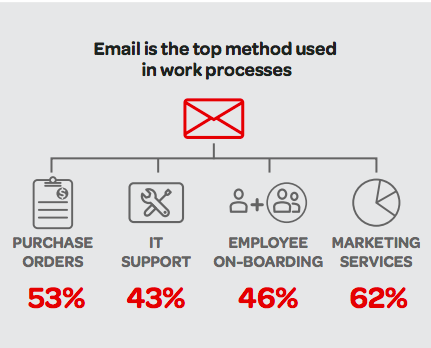 After registering (no cost but a bit of contact info which could result in sales contact hopefully not by email), I browsed the report in full It's here (PDF) and yes there is much more on the ways that email and spreadsheets waste your time and patience and how the choice of unstructured communications and clutter combine to cost your enterprise greatly. Good survey here from a survey of 915 managers in the US and UK.