News librarian becomes "bridge" for Bolivian journalists
By Laura Soto-Barra
Assistant Managing Editor/Library, The Post-Standard, Syracuse, N.Y.
I visited newspapers and universities in three Bolivian cities in October 2001 as a participant in the Freedom Forum's International Library Program. My presentations and workshops covered basic research topics on how to use the Internet and intranets in the newsroom. My audiences were journalism students, reporters, editors and publishers.
I visited the following newspapers: El Deber, El Nuevo Dia, and El Mundo in the city of Santa Cruz; Opinion and Los Tiempos in Cochabamba; and La Razon and La Prensa in La Paz, the Bolivian capital. The four universities where I gave five seminars to students included: Universidad Privada de Santa Cruz de la Sierra, Universidad Catolica de Cochabamba, Universidad Andina Simon Bolivar (La Paz), and Universidad Catolica Boliviana, (La Paz).
The training sessions were fascinating because of the questions students asked. Many times I was faced with issues of ethics and politics, censorship, and the practice of journalism in a free society. People were very aware of what was going on in the world after the Sept. 11 attacks and had sharp opinions about the United States.
During my Internet sessions, students and reporters only requested examples related to then-Bolivian president Jorge Fernando Quiroga, his speeches, interviews and declarations, along with corruption and the eradication of the coca crop. Quiroga, 42, is an American-educated engineer with a clean past, which means free of corruption. He went to college at Texas A&M University and got an MBA at Edward's University in Austin. According to the Miami Herald, Quiroga was the architect of the U.S.-backed plan that eradicated 95% of Bolivia's illicit coca crop.
The knowledge and use of the Internet among Bolivian college students is still basic with only 10% of Bolivians using it. All of my workshops and presentations were done in Spanish although most students read English very well. The editors I visited were not familiar with Nexis-Lexis, Factiva, Gale, or any other commercial database. They had an idea of the importance of electronic archives but were not familiar with research, access to databases, or selling content or e-commerce through Web sites. My conversations with them were about the benefits of a news researcher and an archive for the newspapers and their readers.
Most editors and publishers wanted to know how to set up electronic archives and the cost and maintenance of an intranet. Of course, they asked how our newsroom is run, how we plan series and large projects, the Sunday paper content, how we communicate within the newsroom, the roles of the art and photo departments, and obviously, the role of a library.
Bolivian newspapers don't have news libraries or databases, they have what they call a "hemeroteca" which holds the bound volumes of their newspapers. I told them how we use and manage information at The Post-Standard and how we serve our readers by publishing stories that are well researched and illustrated.
Besides the lack of news libraries and databases, Bolivian newspapers have very limited access to public records. Compare that reality to our reporters' situation at many American newspapers whose desktops are virtual information centers loaded with resources and tools to do their jobs efficiently. Our colleagues in Bolivia are much more resourceful than we are and they must survive with no tools. It's very encouraging to see them embrace technologies with so much enthusiasm. Much of the reporters' time is used searching scattered information in government offices, and developing personal files. SNAP, our intranet at the Post-Standard, was a success among practicing journalists because they saw its functionality and efficiency for their own personal use. They also realized that intranets are easily developed and they may be a reality in their newsrooms very soon.
The Freedom Forum, through the Buenos Aires office [now closed], facilitated a meeting with a local author Carlos Camacho. Carlos has a Ph.D. in Communications and recently published a book on the role of Bolivian radio in the development of Bolivian citizenship. Camacho, as they told me, is one of the many young and talented Bolivian leaders who have been educated after Marxism lost its luster in universities. Such professionals feel comfortable with the global economy and are eager to get ahead using information systems and technology. Most important, he's one of the first journalists advocating the use of investigative reporting to serve readers. Carlos and two of his broadcasting colleagues took me to Lake Titicaca, the highest navigable lake on earth. Aside from that, I couldn't do much sightseeing except when they drove me to the scheduled meetings.
My working experience in Latin American and North American cultures allowed me to be a useful "bridge" for Bolivian reporters in the use of databases and information in journalism. For that reason, the trip was very special for me. I not only realized we have so much in American newsrooms but I also saw how much I know about using information technologies as reporting tools.
By the end of the week, I was exhausted. I covered the country in seven days, flying from place to place. La Paz is at an altitude of 13,000 feet and I felt the symptoms of being there for the first time - short of breath and palpitations. I was served coca-leaf tea, which is a popular beverage and folk remedy for altitude sickness in Bolivia.
The hotels where I stayed were the best in the country thanks to The Freedom Forum. I was usually the only woman dining or having breakfast. The Deans of the Schools of Communications at the universities I visited, (Deans and Directors, Ingrid Steinbach de Loza, Erick Torrijo Villanueva and Fernando Andrade Ruiz ) were kind and generous with their time, organizing the sessions, guiding me and driving me to the different locations.
The Post-Standard allowed me to take advantage of this magnificent invitation from the Freedom Forum.
Bolivia's Basic Facts: http://www.odci.gov/cia/publications/factbook/index.html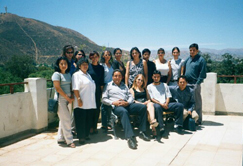 Participants attending a seminar presented by Laura Soto-Barra in Cochabamba pose for a group photo. The setting is at the Universidad Catolica Boliviana's campus on the roof patio. Dean Fernando Andrade, sitting on left, is seated next to Laura. The majestic Andes, the warm sunshine and the blue skies are a constant in Bolivia. (Click on the photo to view a larger version.)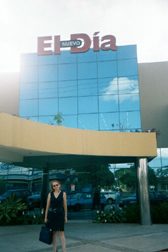 Laura Soto-Barra stands in front of El Nuevo Dia newspaper building in Santa Cruz. Most newspaper buldings and newsrooms in Bolivia are modern and spacious. Some of their computer systems would be the envy of American newspapers, but the connections to the internet were atrocious. Telecommunications were deregulated at the end of 2001. (Click on the photo to view a larger version.)
---
Last Updated: 2/4/03
Ron Larson
rlarson@madison.com