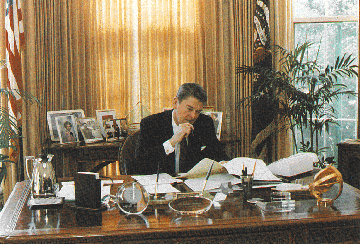 Introduction
Whether a fan of Ronald Reagan or not, any impartial observer would conclude that Ronald Reagan became an eloquent speaker. His rhetoric defined the American political agenda for a generation. This section presents Ronald Reagan's speeches through 50 years of American history. It also includes a look at how much Ronald Reagan involved himself in the development of his speeches.

Next section.
Select here for the Development staff.
Developers
These pages written by Terry Sullivan based on basic research and page designs by Stephanie Beck, Chad Garrett, and Tom Spriggle.

Return to Table of Contents.