Welcome to the tour section of our site! Here you will get to see pictures of over 60 campus buildings and sites and read history about them. You have three touring options:
Guided Tour - Arnie takes you around campus in a pop-up window. Go from building to building by just clicking the arrows at the top!
Point and Click Tour - Already know your way around? This may be the tour for you. Take a look at a map of campus and click on the building you'd like to know more about!
Text-based Tour - Slow connection speeds got you down? Well don't worry, you can still tour UNC. Try our completely text-based tour with links to images!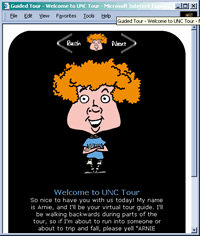 Click above to start your Guided Tour now!