Return to Naval Historical Center home page.

Return to Online Library listing

DEPARTMENT OF THE NAVY -- NAVAL HISTORICAL CENTER
805 KIDDER BREESE SE -- WASHINGTON NAVY YARD
WASHINGTON DC 20374-5060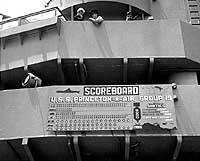 Online Library of Selected Images:
-- EVENTS -- The Korean War, 1950-1953 --
The War Stabilizes, 25 January - 30 June 1951 --
Aircraft Carrier Operations
Having temporarily brought Korean War zone fleet carrier levels back up to four ships to meet the crisis of the great Chinese offensive, the U.S. Navy kept three Essex class carriers in the area as the enemy was rolled back and the war stabilized. That allowed at least two to be continuously operational with Task Force 77 in the Sea of Japan, with another not far away at a Japanese port. Occasionally, one could also be spared to cruise off Taiwan as a deterrent to Chinese Communist threats in that area.
By late January 1951, USS Leyte, a reinforcement from the Atlantic Fleet, had just left the Far East after a combat tour of more than three months. Remaining on station were her Pacific Fleet sister ships Philippine Sea , present since the beginning of August; Princeton, an early December arrival; and a very tired Valley Forge , in action with only a brief break since early July 1950. The latter was finally able to go home for a well-deserved overhaul in late March 1951, when the freshly-refitted Boxer arrived to begin her second Korean War tour. In May, the newly-recommissioned Bon Homme Richard came out to relieve Philippine Sea, whose ten-month 1950-51 combat cruise set a Korean War record. Once Princeton left in August 1951 following eight months in the combat area, the addition of more recommissioned ships and an absence of extraordinary crises kept the typical Korean War carrier tour down to a reasonably consistent half-year's duration.
For ships' crews and air group personnel, these deployments were very hard work. During daylight, F9F jet fighters and propeller-driven AD attack planes and F4U figher-bombers were steadily sent out on strike missions, requiring unceasing labor to keep them armed, fueled and maintained. The fuel consumption of the jets and the heavy ordnance loads of the "props" ensured that this labor was vigorous. The geometry of these "axial deck" carriers also meant that planes had to be constantly moved up and down the flight deck to allow launching and recovery. Nightfall rarely brought relief, as that was when oilers and ammunition ships came alongside to replace fuel, bombs, bullets and rockets expended during the day. Night flying added to the workload. It was increasingly in demand as a resourceful enemy employed the cover of darkness to move his supplies and men south toward the front line.
The British carrier presence continued through the period, with HMS Theseus and later HMS Glory providing seaborne air support along Korea's west coast. They were frequently joined by a U.S. Navy escort carrier or the light carrier Bataan, which had air groups of Marine Corps F4U "Corsairs".
This page features miscellaneous images related to the Korean War aircraft carrier operations from 25 January through 30 June 1951, and provides links to further pictorial coverage of this subject.
For additional views of carrier operations during this period, see: