Return to Naval Historical Center home page.

Return to Online Library listing

DEPARTMENT OF THE NAVY -- NAVAL HISTORICAL CENTER
805 KIDDER BREESE SE -- WASHINGTON NAVY YARD
WASHINGTON DC 20374-5060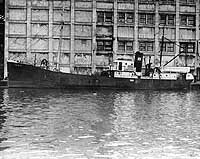 Online Library of Selected Images:
-- CIVILIAN SHIPS --
Fishing Trawler Georgetown (1928).
Later USS Linnet (AM-76, later IX-166), 1941-1945
Georgetown, a 410-ton trawler, was built in 1928 at Bath, Maine, for civilian employment. She was acquired by the U.S. Navy in September 1940, converted to a minesweeper and commissioned as USS Linnet (AM-76) in March 1941. Initially stationed at the Mine Warfare School, Yorktown, Virginia, she was sent to the South Atlantic in the spring of 1942. Linnet served at Recife, Brazil, until February 1944, when she returned to the U.S. She was reclassified IX-166 in April 1944 in anticipation of conversion to a small cargo ship. However, this work was not done, and she decommissioned in December 1944. USS Linnet was turned over to the War Shipping Administration in July 1945. She later became the civilian vessel Cambridge.
This page features our only view of the trawler Georgetown, later USS Linnet (AM-76 & IX-166).
Click on the small photograph to prompt a larger view of the same image.
Photo #: NH 101777

Trawler Georgetown

Photographed circa 1940, at about the time she was acquired by the U.S. Navy. Note U.S. flag painted on the side of her pilothouse as a wartime neutrality marking.
Built in 1928, Georgetown was acquired by the Navy on 4 September 1940 and commissioned on 3 March 1941 as USS Linnet (AM-76).

The original print is in National Archives' Record Group 19-LCM.

U.S. Naval Historical Center Photograph.

Online Image: 136KB; 740 x 615 pixels

Return to Naval Historical Center home page.
Page made 3 February 2001