Return to Naval Historical Center home page.

Return to Online Library listing

DEPARTMENT OF THE NAVY -- NAVAL HISTORICAL CENTER
805 KIDDER BREESE SE -- WASHINGTON NAVY YARD
WASHINGTON DC 20374-5060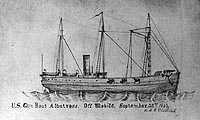 Online Library of Selected Images:
-- U.S. NAVY SHIPS --
USS Albatross (1861-1865)
USS Albatross, an 378-ton (burden) wooden screw gunboat, was built at Mystic, Connecticut, in 1858 as a commercial steamship. She was purchased by the Navy in May 1861 and commissioned a month later for Civil War service. After briefly operating in Chesapeake Bay, Albatross went south to enforce the blockade along the North Carolina coast where she engaged the gunboat Beaufort and seized two schooners in July. One of the latter, the Enchantress, had earlier been captured by the Confederate privateer Jefferson Davis. She took another schooner at the beginning of August, while en route north for repairs, and one more in Chesapeake Bay in mid-September. Albatross primarily worked off North Carolina for the next several months, destroying the ship York on 16 January 1862. In April she was sent to South Carolina waters, where she captured a tug and a schooner in June 1862.
In August 1862, following repairs at Boston, Albatross went to the Gulf of Mexico. She operated along the Texas coast, capturing a schooner in September, and off Florida. Beginning in December 1862 she served on the Mississippi River, supporting landings at Baton Rouge in that month. On 14 March she participated in a brave run upriver past enemy fortifications at Port Hudson, Louisiana, and a few days later engaged the Confederates at Grand Gulf, Mississippi. Albatross also fought the enemy gunboats Grand Duke and Mary T. at Fort DeRussy on 4 May, a sharp action that left her seriously damaged.
From September 1863 to May 1864 Albatross was mainly used on the blockade of Mobile Bay, Alabama, and on dispatch service between Gulf ports. She began repairs in June and did not return to commissioned status until late December 1864, when she was ordered back to the Gulf for more duty in the Mobile area. Sent north after the end of the Civil War, USS Albatross was decommissioned in August 1865 and sold in September. Her new owners returned her to commercial trade, leaving her name unchanged. Converted to a sailing vessel in 1888, she existed at least into the mid-1890s.
This page features the only views we have related to USS Albatross (1861-1865).
Click on the small photograph to prompt a larger view of the same image.
Photo #: NH 57264-A

USS Albatross (1861-1865)

Sketch by William M.C. Philbrick, depicting her off Mobile, Alabama, on 25 September 1863.

From the Private Papers of William M.C. Philbrick, Carpenter's Mate, USS Portsmouth.

U.S. Naval Historical Center Photograph.

Online Image: 69KB; 740 x 470 pixels

Photo #: NH 58884

"Recapture of the Schooner 'Enchantress' by the Gun-boat 'Albatross'."

Line engraving, based on a sketch by Mr. Donovan, published in "Harper's Weekly", 1861.
The civilian schooner Enchantress was captured by the Confederate privateer Jefferson Davis on 6 July 1861. She was retaken by USS Albatross off Hatteras Inlet, North Carolina, on 20 July 1861.

U.S. Naval Historical Center Photograph.

Online Image: 178KB; 740 x 615 pixels

Return to Naval Historical Center home page.
Page made 13 July 2003