Return to Naval Historical Center home page.
Return to Online Library listing
DEPARTMENT OF THE NAVY -- NAVAL HISTORICAL CENTER
901 M STREET SE -- WASHINGTON NAVY YARD
WASHINGTON DC 20374-5060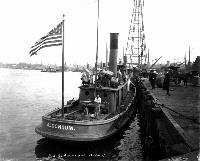 Online Library of Selected Images:
-- U.S. NAVY SHIPS --
USS Accomac (1898-1946, later YT-18 & YTL-18),
briefly named USS Algonquin and later renamed USS Nottoway, YT-18, and YTL-18
USS Accomac, a 187-ton tug, was built for commercial use in 1891 at Newport News, Virginia. She was acquired by the Navy in March 1898 and named USS Algonquin. During the Spanish-American War, she was assigned to Key West, Florida, and was renamed Accomac in June 1898.

Following 1898, the tug served at several east and Gulf coast navy facilities, including Boston Navy Yard, where she was employed from 1911 to the end of her service. Accomac was designated YT-18 in 1920, and was renamed Nottoway at about the same time. During World War II, she was renamed YT-18 (1942) and YTL-18 (1944). Placed out of service in April 1946, the old tug was sold the following October.

This page features selected 1898-era views of this tug.

If higher resolution reproductions than these digital images are desired, see "How to Obtain Photographic Reproductions."

Click on the small photograph to prompt a larger view of the same image.
Photo #: 19-N-19-24-1

USS Algonquin (1898-1946)

At the New York Navy Yard, Brooklyn, New York, circa April 1898.
Note 6mm Colt Machinegun and 13-star boat flag aft, and horse cart on pier
This tug was renamed Accomac on 15 June 1898, Nottoway in 1920, and YTL-18 during World War II.

Photograph from the Bureau of Ships Collection in the U.S. National Archives.

Online Image: 70,674 bytes; 740 x 630 pixels

Reproductions of this image may also be available through the National Archives photographic reproduction system.

Photo #: NH 85645

U.S. Navy Tugs in port, circa April 1898

Halftone photo, published in War in Cuba, 1898.
These ships include (left to right):
USS Algonquin (1898-1946, renamed Accomac on 15 June 1898 and Nottoway in 1920);
USS Leyden (1865-1903); and
USS Sioux (1898-1921, renamed Nyack in 1918).
Note sailors rowing a small boat in right foreground.

Courtesy of Alfred Cellier, 1977.

U.S. Naval Historical Center Photograph.

Online Image: 79,477 bytes; 750 x 575 pixels
Return to Naval Historical Center home page.
2 October 1998