Return to Naval Historical Center home page.
Return to Online Library listing
DEPARTMENT OF THE NAVY -- NAVAL HISTORICAL CENTER
901 M STREET SE -- WASHINGTON NAVY YARD
WASHINGTON DC 20374-5060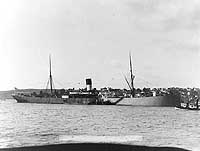 Online Library of Selected Images:
-- U.S. NAVY SHIPS --
USS Brutus (AC-15), 1898-1922
USS Brutus, a 2000-ton collier, was built in 1894 in England as the merchant ship Peter Jebsen. Purchased by the U.S. Navy in April 1898, she towed the monitor USS Monterey to Manila during the Spanish-American War. Thereafter she served as a station ship, collier and supply ship until decommissioned in August 1921. Brutus was sold the following year.

This page features a selected view of USS Brutus.

If higher resolution reproductions than these digital images are desired, see "How to Obtain Photographic Reproductions."

Click on the small photograph to prompt a larger view of the same image.
Photo #: NH 71722

USS Brutus (1898-1922)

Being repainted into wartime grey, off the Mare Island Navy Yard, California, 28 May 1898. She had been commissioned on the previous day.

Courtesy of the San Francisco Maritime Museum, 1970.

U.S. Naval Historical Center Photograph.

Online Image: 61,817 bytes; 740 x 600 pixels
Return to Naval Historical Center home page.
24 September 1998