Return to Naval Historical Center home page.

Return to Online Library listing

DEPARTMENT OF THE NAVY -- NAVAL HISTORICAL CENTER
805 KIDDER BREESE SE -- WASHINGTON NAVY YARD
WASHINGTON DC 20374-5060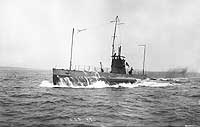 Online Library of Selected Images:
-- U.S. NAVY SHIPS --
USS K-1 (Submarine # 32, later SS-32), 1914-1931.
Name changed from Haddock before construction
USS K-1, lead ship of a class of eight 392-ton submarines, was built at Quincy, Massachusetts. Originally named Haddock, she was renamed in November 1911, four months before her keel was laid. K-1 was placed in commission in mid-March 1914 and began operational service with the Atlantic Torpedo Flotilla that October. She was primarily used for developmental work during the next three years. In October 1917, some six months after the United States entered World War I, the submarine went to the Azores with three sisters to begin active patrols against German U-boats. Returning to the U.S. in December 1918, K-1 returned to her pre-war pattern of developmental work along the East Coast. She was decommissioned in March 1923 and sold for scrapping in June 1931.
This page features the only view we have concerning USS K-1 (Submarine # 32, later SS-32).
Click on the small photograph to prompt a larger view of the same image.
Photo #: NH 99399

USS K-1 (Submarine # 32)

Underway, circa 1916.
Photographed by O.W. Waterman, Hampton, Virginia.

Collection of Commander Haines H. Lippencott. Donated by Rhoda A. Lippencott, 1973.

U.S. Naval Historical Center Photograph.

Online Image: 99KB; 740 x 495 pixels

Return to Naval Historical Center home page.
Page made 17 June 2004