Return to Naval Historical Center home page.

Return to Online Library listing

DEPARTMENT OF THE NAVY -- NAVAL HISTORICAL CENTER
805 KIDDER BREESE SE -- WASHINGTON NAVY YARD
WASHINGTON DC 20374-5060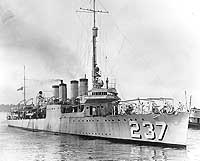 Online Library of Selected Images:
-- U.S. NAVY SHIPS --
USS McFarland (DD-237, later AVD-14), 1920-1946
USS McFarland, a 1190-ton Clemson class destroyer, was built at Camden, New Jersey. Commissioned in September 1920, she soon departed for European waters, where she served between England and the Black Sea until September 1923, with time out for a brief return to the U.S. in mid-1922. For the rest of the 1920s and all of the 1930s she was active in the Atlantic except for a trip to Hawaii during the 1925 Fleet Problem and a short time in reserve at Philadelphia in the early 1930s.
In August 1940, McFarland was reclassified as a seaplane tender with the new hull number AVD-14. Following conversion for this role and recommissioning in October 1940, she went to the Pacific. When Japan brought the United States into World War II with the 7 December 1941 attack on Pearl Harbor, McFarland was at sea off Maui. During the next six months, she continued operations in the vicinity of Hawaii and other U.S.-held central Pacific islands, performing patrol and transportation missions.
McFarland went to the south Pacific in June 1942 and, after the southern Solomons invasion in early August, was active in support of the campaign to defend the new U.S. air base at Guadalcanal, initially as a seaplane tender but mainly in carrying supplies and personnel to and from the combat area. On 16 October 1942, while off Guadalcanal unloading cargo and embarking combat casualties, she was attacked by Japanese dive bombers. One bomb hit a gasoline barge tied up alongside and others hit or near-missed McFarland. Her crew's heroic performance in saving their ship under very difficult conditions was recognized with a Presidential Unit Citation.
For the next two months, McFarland received temporary repairs at Tulagi and Espiritu Santo. She steamed to Pearl Harbor in December 1942 and was completely repaired by April 1943. For the rest of the Pacific War, she was based at San Diego, California, supporting aircraft carriers during training missions. The ship's destroyer designation, with her DD-237 hull number, was restored in December 1943, and a proposed conversion in 1944 to a fast transport (APD-26) was not carried out. At the end of September 1945, following the conclusion of hostilities, she left the Pacific for Philadelphia, Pennsylvania. USS McFarland decommissioned there in November 1945 and was sold for scrapping in October 1946.
This page features all the views we have related to USS McFarland (DD-237, later AVD-14).
Click on the small photograph to prompt a larger view of the same image.
Photo #: NH 769

USS McFarland (DD-237)

At Venice, Italy, during the 1920s.
The original photo is dated 1927, but was more probably taken circa 1922-23.

U.S. Naval Historical Center Photograph.

Online Image: 56KB; 740 x 575 pixels

Photo #: NH 95207

USS McFarland (DD-237)

Coming alongside USS Pittsburgh (CA-4) in mid-ocean to send a sick man on board for treatment, during the mid-1920s.
Photographed by Ray, USS Pittsburgh.

Courtesy of Jack Howland, 1983.

U.S. Naval Historical Center Photograph.

Online Image: 80KB; 740 x 485 pixels

Photo #: NH 64545

USS McFarland (DD-237)

Leaving the Philadelphia Navy Yard, Pennsylvania, on 4 August 1932, after being recommissioned.

Donation of Franklin Moran, 1967.

U.S. Naval Historical Center Photograph.

Online Image: 94KB; 740 x 620 pixels

Photo #: NH 97823

USS McFarland (DD-237)

Photographed during the 1920s or 1930s.

Official U.S. Navy Photograph, from the collections of the Naval Historical Center.

Online Image: 78KB; 740 x 600 pixels

Return to Naval Historical Center home page.
Page made 19 January 2002