Return to Naval Historical Center home page.
Return to Online Library listing
DEPARTMENT OF THE NAVY -- NAVAL HISTORICAL CENTER
901 M STREET SE -- WASHINGTON NAVY YARD
WASHINGTON DC 20374-5060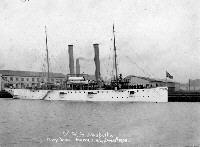 Online Library of Selected Images:
-- U.S. NAVY SHIPS --
USS Nashville (Gunboat # 7, PG-7), 1897-1921
USS Nashville, a 1371-ton gunboat, was built at Newport News, Virginia, and commissioned in August 1897. She initially served in the North Atlantic Fleet, and operated off Cuba during the Spanish-American War. In 1899, she was transferred to the Asiatic Station, where she was active in supressing the Philippine Insurrection and the Boxer Rebellion.
Nashville moved to the Mediterranean Sea in 1901-02, then operated in the Caribbean area. Her next duty was as a training ship on the Great Lakes, followed by another tour in the Caribbean. During World War I, the gunboat served in European waters. She decommissioned in October 1918, and was sold three years later.
This page features a selected view of USS Nashville.
If higher resolution reproductions than these digital images are desired, see "How to Obtain Photographic Reproductions."
Click on the small photograph to prompt a larger view of the same image.
Photo #: NH 63415

USS Nashville (PG-7)

At the Norfolk Navy Yard, Virginia, 8 January 1898.

U.S. Naval Historical Center Photograph.

Online Image: 63,321 bytes; 740 x 580 pixels
Return to Naval Historical Center home page.
6 October 1998