Return to Naval Historical Center home page.

Return to Online Library listing

DEPARTMENT OF THE NAVY -- NAVAL HISTORICAL CENTER
805 KIDDER BREESE SE -- WASHINGTON NAVY YARD
WASHINGTON DC 20374-5060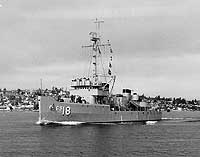 Online Library of Selected Images:
-- U.S. NAVY SHIPS --
USS Requisite (AM-109, later AGS-18), 1943-1965
USS Requisite, an 890-ton Auk class minesweeper, was built at Seattle, Washington. Commissioned in June 1943, she escorted a convoy to Honolulu in August, then trained in Hawaiian waters for several months. Requisite took part in the invasion of Tarawa in November 1943, during which she performed mine clearance, survey, landing craft control and anti-submarine screening duties. She provided similar services during subsequent amphibious operations in the Marshall Islands in January-April 1944. Following an overhaul at San Francisco, the minesweeper spent most of the summer in the Hawaii area, then moved west to participate in the Leyte campaign that began in October 1944 and extended into December.
In January 1945 Requisite cleared mines during the Lingayen Gulf landings that opened the fight for Luzon and, in March-June she participated in the long battle to seize Okinawa and other islands in the Ryukyus. Minesweeping service in the East China Sea followed in July. When the Pacific war ended in early September, Requisite commenced several months of mine clearance operations around Japan. She returned to the United States in January 1946 to undertake target towing work for the Atlantic Fleet. Decommissioned in December 1947, Requisite was laid up at Orange, Texas.

Requisite returned to commissioned service in February 1950 and was thereafter employed as a survey ship. Redesignated AGS-18 in August 1951, she worked in the Caribbean and off Labrador and Greenland from 1950 to 1954, then deployed to the Mediterranean to operate in Turkish waters. In 1956 Requisite was transferred to the Pacific, where she conducted hydrographic and other scientific surveys from the Arctic to the tropics. Returning to the Atlantic in 1959, she deployed twice to the Persian Gulf as well as serving in the Caribbean, off the East Coast and in the colder waters of Iceland and Greenland. USS Requisite was placed out of commission at the beginning of April 1964 and was sold for scrapping in March 1965.
This page features all the views we have related to USS Requisite (AM-109, later AGS-18).
Click on the small photograph to prompt a larger view of the same image.
Photo #: NH 89206

USS Requisite (AM-109)

In a harbor, circa 1944.
Her camouflage appears to be Measure 32, Design 1M.

Courtesy of William H. Davis, 1979.

U.S. Naval Historical Center Photograph.

Online Image: 58KB; 740 x 490 pixels

Photo #: NH 99105

USS Requisite (AGS-18)

Underway, circa the mid-1950s.

Official U.S. Navy Photograph, from the collections of the Naval Historical Center.

Online Image: 105KB; 740 x 605 pixels

Return to Naval Historical Center home page.
Page made 30 January 2004