Return to Naval Historical Center home page.

Return to Online Library listing

DEPARTMENT OF THE NAVY -- NAVAL HISTORICAL CENTER
805 KIDDER BREESE SE -- WASHINGTON NAVY YARD
WASHINGTON DC 20374-5060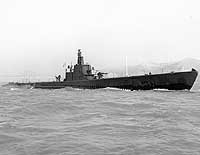 Online Library of Selected Images:
-- U.S. NAVY SHIPS --
USS Sailfish (SS-192), 1939-1948.
Named Squalus until 1940
USS Squalus, a 1450-ton Sargo class submarine, was built at the Portsmouth Navy Yard, Kittery, Maine. Commissioned in March 1939, she was conducting test dives off the New Hampshire coast on 23 May when the main induction valve failed to close, flooding her after compartments. Squalus sank to the sea floor, over 200 feet below the surface. After heroic exertions by Navy divers, led by Commander Charles B. Momsen, her 33 surviving crewmen were rescued on 24 and 25 May 1939. The submarine was salvaged in an equally dramatic effort during the Summer of 1939. Decommissioned, repaired and renamed Sailfish, she was recommissioned in May 1940.
Following initial operations in the Atlantic, Sailfish was tranferred to the Pacific in early 1941, and subsequently went to operate in Asiatic waters. With the outbreak of war with Japan in December 1941, she made three war patrols from the Philippines and Java, then shifted her base to Australia, from which she made four more patrols from March 1942 into January 1943. After an overhaul, Sailfish went to Pearl Harbor, from which she operated for the rest of her combat career. From May 1943 into December 1944, she conducted a further five war patrols. During her twelve patrols, Sailfish sank seven Japanese ships, including the escort carrier Chuyo, totalling over 40,000 tons and was awarded the Presidential Unit Citation.
In January 1945, Sailfish returned to the Atlantic, where she performed training duties during the remainder of World War II. She was decommissioned in October 1945 and assigned to be expended as a target. However, she was not used for that purpose and was sold for scrapping in June 1948.
This page features views, or provides links to, of USS Squalus and Sailfish, including images of the rescue of Squalus's crew and of her salvage in 1939.
For additional views relating to USS Squalus, see: