Return to Naval History and Heritage Command home page.

Return to Online Library listing


DEPARTMENT OF THE NAVY -- NAVAL HISTORY AND HERITAGE COMMAND
805 KIDDER BREESE SE -- WASHINGTON NAVY YARD
WASHINGTON DC 20374-5060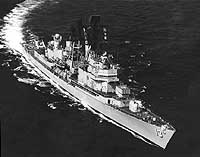 Online Library of Selected Images:
U.S. NAVY SHIPS -- Listed by Hull Number
DL and DLG -- Destroyer Leaders, Frigates and Guided Missile Frigates
During World War II the Navy began concept development of a new type of destroyer, intended for operation with aircraft carriers. It was considerably larger than existing destroyers with weapons and sensors emphasizing aircraft control, anti-aircraft and anti-submarine missions. Later in the 1940s, the need to combat high-performance submarines generated a separate concept for an even larger ship, of about the same size as the earlier Atlanta (CL-51) class light cruisers. The Fiscal Year 1949 shipbuilding program provided for six ships based on both of these schemes: four destroyers (DD-927 through DD-930) and two "hunter-killer" light cruisers (CLK-1 and CLK-2). Construction of CLK-2 (to be named New Haven) was not begun, but the other five were laid down in 1949. In February 1951 these ships were reclassified as "destroyer leaders" and designated DL. They were completed as such in 1953 and 1954.
On 1 January 1955, the five destroyer leaders were again reclassified, becoming "frigates" but retaining their DL designation and hull numbers. The Fiscal Year 1956 shipbuilding program provided for three more frigates with all-gun main batteries (DL-6 through DL-8) and another three ships of nearly identical design but armed with "Terrier" guided missiles. The latter were designated DLG and numbered in a separate series (DLG-1 through DLG-3). Before keels were laid, all six became guided-missile frigates and were redesignated DLG-6 through DLG-11. Over the next two decades thirty more DLGs were built, among them eight with nuclear-generated steam powerplants (DLGN). Another DLGN was programmed, but cancelled before construction began.
Modernized in the later 1960s, two of the first five frigates were reclassified guided-missile destroyers (DDG-35 and DDG-36) in 1967. All of the guided-missile frigates (DLG & DLGN) were reclassified at the end of June 1975, at which time the DL and DLG designations went out of use. The first ten DLGs became guided-missile destroyers and received new hull numbers (DDG-37 through DDG-46). The rest became guided-missile cruisers (CG and CGN), while retaining their original numbers.
Note on the "destroyer leader" classification: During the middle and later 1930s, thirteen large destroyers were constructed. Intended as squadron leaders, and frequently referred to as "destroyer leaders", they were designated and numbered within the regular destroyer series (DD-356 through DD-363, DD-381, DD-383 and DD-394 through DD-396).
Note on the "frigate" classification: The U.S. Navy has used the term "frigate" for two other types of modern warship. The first type originated during World War II as "frigates" (designated PF, and also called "patrol escorts"). This designation actually continued in use during the era of the big "frigates" (DL, DLG and DLGN). In mid-1975 the latter ships were reclassified as guided-missile destroyers and cruisers. At the same time, a large number of modern "escort ships" (DE and DEG) took over the "frigate" classification, becoming FFs and FFGs. This action brought the U.S. Navy into compliance with the ship classification practices of most foreign navies.
This page provides the hull numbers of all U.S. Navy destroyer leaders, frigates and guided missile frigates numbered in the DL/DLG series, with links to those with photos available in the Online Library.
See the list below to locate photographs of individual destroyer leaders, frigates and guided missile frigates numbered in the DL/DLG series.
If the destroyer leader (DL), frigate (DL) or guided missile frigate (DLG) you want does not have an active link on this page, contact the Photographic Section concerning other research options.
NOTES:

To the best of our knowledge, the Online Library's pictures are all in the Public Domain, and can therefore be freely downloaded and used for any purpose.


Some images linked from this page may bear obsolete credit lines citing the organization name: "Naval Historical Center". Effective 1 December 2008 the name should be cited as: "Naval History and Heritage Command".







Return to Naval History and Heritage Command home page.
Page made 29 January 2010
Links added 14 April 2010