The term "Gulf States" refers to the Arab states on the south side of "The Gulf" (known in Arabia as the Arabian Gul, and elsewhere generally as the Persian Gulf or Gulf of Iran.) Northwest to southeast the Gulf States are Kuwait, Saudi Arabia, Bahrain, Qater, and the United Arab Emirates. The Lighthouse Directory has pages for the lighthouses of Kuwait, Bahrain, Qatar, and Eastern Saudi Arabia, and this page describes lights of the United Arab Emirates.
The Emirates, as the country is often known, extend in an arc eastward from the base of the Qatar Peninsula, encompassing the southern coast of the Gulf. The nation is a federation of seven states: Abu Dhabi, Dubai, Ash-Shariqah (Sharjah), Ajman, Umm al-Quwain, Ras al-Khaimah, and Fujairah. Abu Dhabi is the largest of the emirates in area and includes more than half of the federation's coastline. The easternmost emirate, Fujairah, is outside the Gulf: its coastline faces east on the Gulf of Oman.
The Gulf is a major center of shipping today but that was not true until well into the 20th century. As a result no traditional Western-style masonry lighthouses were ever built in the area. However, included on this page are various sites of possible interest to lighthouse fans. Photos of navigational aids in the Gulf are particularly scarce on the Internet, so contributions from travelers to the area would be very welcome.
Offshore navigational aids in the Gulf are maintained by the Middle East Navigation Aids Service (MENAS), based in Bahrain. MENAS has the important task of guiding the continuous stream of supertankers in the Gulf. Harbor lights are maintained by the port authorities in the various states of the region.
The Arabic word for a lighthouse is mnarh or manara (منارة). Ra's is the word for a cape or headland, jazīrat is an island, and minā is a harbor.
ARLHS numbers are from the ARLHS World List of Lights. Admiralty numbers are from volume D of the Admiralty List of Lights & Fog Signals. U.S. NGA List numbers are from Publication 112.
General Sources

Photos by various photographers posted by Alexander Trabas.
Photos by various photographers available from Lighthphotos.net.
Navigational chart information for the Persian Gulf.
A useful map of the country.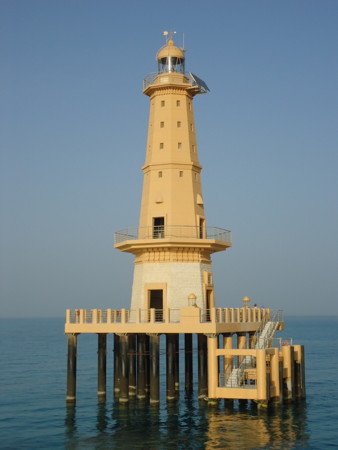 Yasat Ali Light, Abu Dhabi, 2012
photo contributed by Andrew Hawkins