A Month of Lighthouse News:
About this site
Founded in 1999 (during the relocation of North Carolina's Cape Hatteras lighthouse), the Lighthouse Directory is a tool for research and study concerning lighthouses and efforts to preserve those lighthouses. The Directory provides a brief compilation of basic data for each lighthouse with links to other reliable information available on the Internet. Since the addition of the Hainan page in February 2009 listings cover the entire world. However, this doesn't mean the Directory is complete, because new information continues to come to light.
I'm glad to hear from site visitors, especially if you have lighthouse news or photos of rarely-visited lighthouses.
The Directory has over 30,000 links, and all of them were appropriate and legitimate when they were added. Occasionally, because a web site is hacked or a URL is captured, a link leads not to legitimate information but to an inappropriate site, such as a source of pornography or malicious software. Please let me know if this happens, and I will remove the offending link immediately.
This site is hosted by ibiblio.org, one of the largest free information databases online, maintained as a public service of the University of North Carolina at Chapel Hill.
What is a lighthouse?
It is not so easy to define exactly what we mean by a lighthouse, and various organizations and individuals have used very different definitions when describing or classifying lighthouses. Clearly, all lighthouses are lighted aids to navigation, but not all lighted aids are considered to be lighthouses.
Some definitions are not controversial. An aid to navigation is a structure placed on or near navigable water to provide visual guidance to mariners. A beacon is an aid to navigation that is fixed in place (that is, not floating). A lighted beacon or lightbeacon is a beacon displaying a light, while an unlit beacon is called a daybeacon. Often, a lighted beacon is simply called a light.
Everyone agrees that a lighthouse is a lightbeacon that is, in some sense, a substantial building. Small lightbeacons such as masts, solid pillars, or small cabinets are usually not considered to be lighthouses. In this Directory, the guideline is that a lighthouse should have a height of at least 4 meters (13 ft) and a cross-section, at the base, of at least 4 square meters (43 sq ft). This simple guideline does not require that a lighthouse have any particular form or appearance. The structure of a lighthouse may be enclosed, partially enclosed, or completely open.
The Directory includes listings of certain lights and other sites of interest to lighthouse fans that aren't lighthouses by this definition. The titles of those listings are enclosed in square brackets [...]. In addition, lighthouses destroyed or demolished since 2000 continue to be listed; their names are preceded by the hashtag #.
A light station is a collection of buildings including a lighthouse, staff quarters, and supporting structures such as a fog signal building housing a foghorn or fogbell, a boathouse, an oil house to store fuel for the light, and so on. A century ago all lighthouses required lightkeepers to maintain and operate the light, fog signal, and other equipment. Today practically all aids to navigation operate automatically, but some light stations have resident caretakers, still called keepers, to maintain the property and guard against vandalism.
Tzhe lighthouse listings
Dates shown for lighthouses are the dates when the light was first displayed; this may be later than the construction date in some cases. A station establishment date, when listed, is the date when a light was first displayed at or near the same location. Data concerning the characteristics of lights comes mostly from the U.S. Coast Guard Light List for U.S. lighthouses and from the U.S. NGA List of Lights for lighthouses in other countries.
The focal plane height of a light is the height above the surface of the water at which the light is displayed. (The level of the water surface is usually "mean high water," the level at an average high tide.) In the listings, "focal plane" refers to the focal plane height. A lantern of a lighthouse is a room or structure that actually encloses the light.
The heights of the lighthouse towers themselves should be considered approximate. Different sources use different methods for measuring tower heights, and those heights may actually change due to changes in ground level at the base of the tower.
I have attempted to determine whether lighthouse sites and towers are open to the public. This information is inferred from whatever sources may be available; it is certainly not guaranteed. Please let me know if this information, or any information in the Directory, is incorrect.
Lighthouse listings are marked with ratings of zero to four stars based on the extent to which the light station is open to visitors. Check the ratings key to interpret these ratings.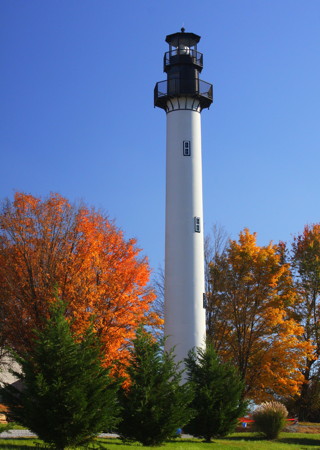 Summersville Lake Light, West Virginia, U.S.A., October 2012
photo copyright Terri Shifflett, courtesy of Donna Keblesh; used by permission

Kīlauea Point Light, Kīlauea, Kauai, Hawaii, U.S.A., May 2013
Wikipedia public domain photo by U.S. Fish and Wildlife Service
Articles about lighthouses:
Special Resources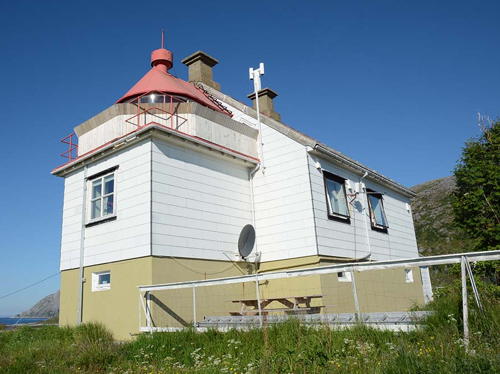 Torsvåg Light, Karlsøy, Troms, Norway
Norwegian Lighthouse Association photo by Roger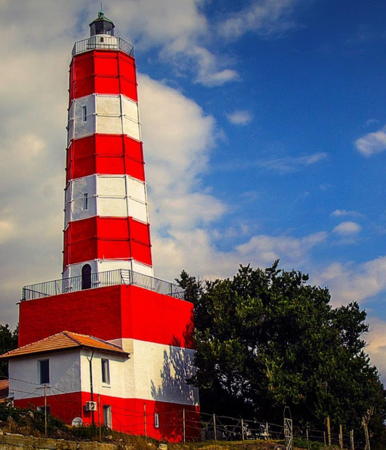 Shabla Light, Shabla, Bulgaria, July 2022
Google Maps photo by Mladen Marinov
Regional, state, and local lighthouse preservation organizations are recognized on each U.S. state page. U.S. organizations interested in lighthouse preservation nationally are:
The American Lighthouse Foundation, based in Rockland, Maine. ALF encourages preservation efforts throughout the country and holds preservation leases on more than a dozen New England lighthouses.
The United States Lighthouse Society, formerly based in San Francisco, has moved to the Point No Point Lighthouse in Hansville, Washington. USLHS has chapters active in the Chesapeake area, Long Island, Oregon, and Washington, and has been active in supporting preservation in other areas as well. The Society also publishes a respected journal, The Keeper's Log, and has a large collection of historic light lists of U.S. lighthouses.
Lighthouses on the Internet: A Researcher's Guide has replaced the list of links formerly on this page.
Lighthouses of the Americas
Northeastern United States
Southeastern United States and U.S. Caribbean
Midwestern United States
Western United States and U.S. Pacific Territories
Atlantic Canada and St. Pierre
Interior and Western Canada
Bermuda and the West Indies
Mexico
Central America
South America, Antarctica, South Atlantic Ocean
Lighthouses of the Pacific and Indian Oceans, Australia, and Africa
New Zealand and Pacific Islands
Australia
Indian Ocean
Africa
Britain and Ireland
France and Monaco
Spain and Portugal
Italy and Malta
Southeastern Europe
Southwestern Russia and Ukraine
Belgium and Netherlands
Germany
Inland Central Europe
Denmark, Faroes, Iceland, and Greenland
Norway (listed south to north)
Sweden (listed south to north)
Poland and the Baltic States
Finland
Northwestern Russia (listed southwest to northeast)
Mediterranean Sea, Black Sea and Caspian Sea
Arabia, Iran and Pakistan
India
Southeast Asia
Philippines
Indonesia, Papua New Guinea, and Timor Leste
China and Taiwan
Korea (listed clockwise around the peninsula)
Japan (listed clockwise around the main islands)
Asiatic Russia