Norway, one of the world's most maritime nations, is long and narrow, with drowned valleys called fjords that bring the sea far inland in most regions. With such a lengthy and rocky shore, it's not surprising that Norway has a large number of lighthouses. This page lists lighthouses of the southern portion of Hordaland County in the southwestern Norway, including the region south of Bergen. An outstanding feature of this region is the Hardangerfjord, Norway's second longest fjord with a length of 179 km (111 mi).
Although it has always been considered a separate realm, Norway has only been independent since 1905; it was ruled by the Danish king until 1814 and then by the Swedish king until the Norwegian parliament arranged a peaceful separation of the two kingdoms.
In Norway a lighthouse is simply called a fyr (fire). Øy is an island, holmen a small island, and skjær is a skerry (a rock or reef). Odde is a cape, headland or promontory.
A smaller tower is often called a lykt (light). Aids to navigation are maintained by the Kystverket (Coast Directorate), an agency of the Ministry of Transport and Communications.
ARLHS numbers are from the ARLHS World List of Lights. NF numbers are from the Norsk Fyrliste. Admiralty numbers are from volumes B and L of the Admiralty List of Lights & Fog Signals. U.S. NGA List numbers are from Publication 115. However the 2018 edition of the NGA List drops most of the lights of Norwegian fjords.
General Sources


With pages in both Norwegian and English, the Association's site provides photos and information on selected lighthouses. There is a page for the lighthouses of Hordaland.
A large web site, in English, with numerous photos and information about the historic lighthouses. The List by Counties page provides links to specific lighthouses in each county.
Photos by various photographers posted by Alexander Trabas. Many of the Bergen area photos were taken Michael Boucher, Arno Siering, or Ronald Wöhrn.
Excellent photos of more than 60 Norwegian lighthouses.
Photos by various photographers available from Wikimedia.
Photos by various photographers available from Lightphotos.net.
From Norwegian Wikipedia, a handy list of Norwegian light stations with their dates of establishment.
Historic postcard images posted by Klaus Huelse.
Nautical chart information for Norway.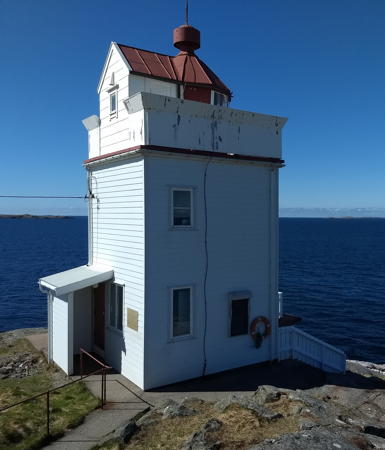 Ryvarden Light, Sveio, April 2018
Google Plus photo by Mark Wallace