Formerly a Mexican territory, California became part of the U.S. after the Mexican War of 1848. The famous Gold Rush began in 1849, and the first lighthouses were built a few years later. These early lights, like the Old Point Loma Light shown below, were built in what was then a typical New England style. Ironically, there are no examples of this style surviving in New England, so the only place to see these traditional New England lighthouses is on the Pacific coast.
This page includes the lighthouses of the Southern California coasts from the Mexican border north through San Luis Obispo County. Lighthouses of Northern California are on a separate page.
Interest in lighthouses is certainly high in California and new lighthouses have been built recently in Santa Cruz and Long Beach.
Navigational aids in the United States are operated by the U.S. Coast Guard, but ownership (and sometimes operation) of historic lighthouses has been transferred to local authorities and preservation organizations in many cases. Aids to navigation in California are maintained by the Eleventh Coast Guard District, which has Aids to Navigation Teams based at San Diego and Long Beach.
ARLHS numbers are from the ARLHS World List of Lights. Admiralty numbers are from volume G of the Admiralty List of Lights & Fog Signals. USCG numbers are from Vol. VI of the USCG Light List.
General Sources
California Lighthouses

An excellent site by Kraig Anderson, with information and photos on each of the light stations.
Photos by various photographers posted by Alexander Trabas.
Fine photos of 33 sites by Robert English.
A site by Ed Litfin, with very fine photos, maps, and visitor information.
Collection of photos by Bryan Penberthy and Michael Jackman.
Aerial photos posted by Marinas.com.
Photos by various photographers available from Lightphotos.net.
Photos by various photographers available from Wikimedia.
Historic postcard images posted by Klaus Huelse.
Nautical charts for the coast can be viewed online.
The USCG Light List can be downloaded in pdf format.
Data from historic light lists collected and posted by the U.S. Lighthouse Society.

Point Vicente Light, Palos Verde, June 2009
Flickr Creative Commons photo by Dhrupad Bezboruah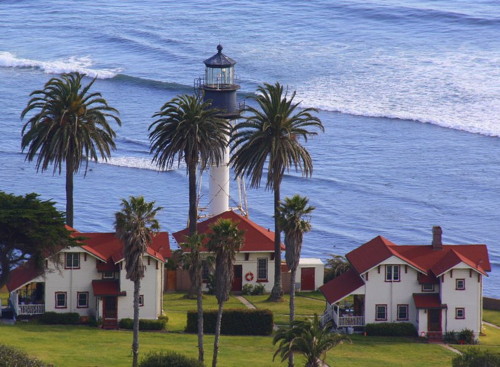 New Point Loma Light, San Diego, March 2012
Flickr Creative Commons photo by Erin and Lance Willett