Kazakhstan, a large country of central Asia, was one of the constituent republics of the Soviet Union until 1991. At its western end Kazakhstan borders the northeastern quadrant of the landlocked Caspian Sea, the world's largest lake. There are several lighthouses on the lake, but since they are not listed by international light lists not much is known about them. Further information, especially photos, would be welcome.
The principal Kazakh ports are Atyrau (formerly Guryev), at the mouth of the Zhayyq (Ural) River near the north end of the Caspian, and Aqtau (formerly Shevchenko) on the Mangyshlak Peninsula opposite Makhachkala in Russian Dagestan.
Lighthouses in Kazakhstan are maintained by the Hydrographic Service within the Ministry of Defense. According to GlobalSecurity.org, the Hydrographic Service operates five lighthouses. A December 2014 article from Inform.kz identifies these lighthouses as Mys Peschannyy, Melovoy (Aqtau), Kyzyl-Ozen, and the two Tupkaragan lights. Other lights in the country are assumed to be inactive.
The Russian word for a lighthouse, mayak (маяк), is commonly used in Kazakhstan, although there is also a Kazakh word bağdarşırak (бағдаршырақ). (The use of Cyrillic script has continued from Soviet times, although some Kazakhs would prefer to use a Latin script similar to that of Turkish.) Mwyis is a cape and aral is an island.
ARLHS numbers are from the ARLHS World List of Lights.
General Sources

Kazakh Lighthouses

This Russian-language article by Elena Kalinina (no longer online, unfortunately) had valuable information on the history of the historic lighthouses.
Photos by various photographers available from Lightphotos.net.
Photos by various photographers available from Wikimedia.
Nothing here yet, but hopefully this webmaster will be adding information on the lighthouses.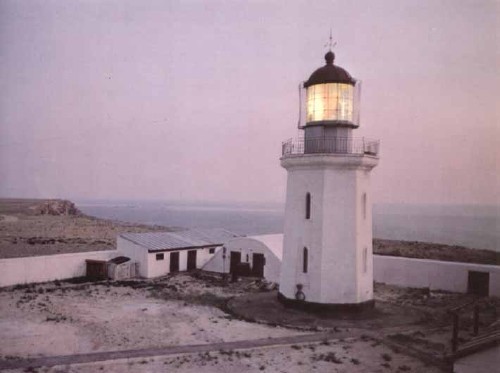 Tupkaragan (Tyub-Karagan) Upper Light
undated photo from SovietMuseum.ru