Indonesia has been independent since 1945 after having been the Dutch East Indies for more than 350 years. It is a huge country, stretching along both sides of the Equator for more than 46 degrees of longitude (roughly 5100 km or 3200 miles). Comprised of some 17,000 islands (more than 6000 inhabited islands), it has hundreds of major aids to navigation. This is one of five pages for lighthouses of Sulawesi (Celebes), a major island in the northern part of the country.
Shaped like an artistically drawn letter K, Sulawesi consists mostly of four narrow peninsulas. The Strait of Makassar separates Sulawesi from Kalimantan (Borneo) to the west. The Celebes Sea is north of the island, the Banda Sea is to the east and southeast, and the Flores Sea is on the south. Makassar, also called Ujung Pandang, is the major port. This page covers South Sulawesi Province, which includes the well-populated southern peninsula and a large number of islands in the Flores Sea, Java Sea, and Strait of Makassar.
The Indonesian word for a lighthouse is mercusuar. The phrase menara suar, which includes the Arabic word menara, is often used instead. Pulau is an island, tanjung or ujung ("end") is a cape or headland, karang is a reef, teluk is a bay, and pelabuhan is a port.
Aids to navigation in Indonesia are operated and maintained by the Directorate General of Sea Navigation.
ARLHS numbers are from the ARLHS World List of Lights. Admiralty numbers are from volumes F and Q of the Admiralty List of Lights & Fog Signals. U.S. NGA List numbers are from Publication 112.
General Sources

Coming soon: photos by various photographers posted by Alexander Trabas.
Historic postcard views from the collection of Michel Forand.
Photos by various photographers available from Lightphotos.net.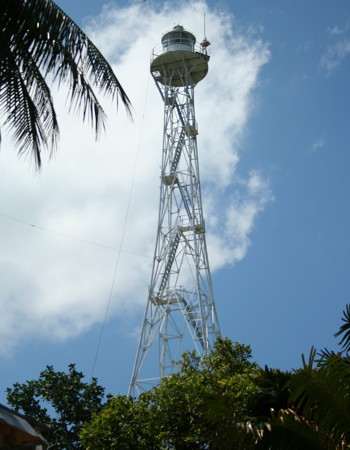 Pulau Kalu Kalukuang Light, Makassar Strait, May 2009
ex-Panoramio photo copyright Taufik Hidayatullah; used by permission