Newfoundland and Labrador -- including both the Island of Newfoundland and the mainland territory of Labrador -- is the easternmost province of Canada. Newfoundland is not an original member of the Canadian federation. Long governed as a British colony, it became a self-governing dominion under the British Crown in 1907. Newfoundland joined Canada as the tenth province in 1949 following a referendum the previous year. The name of the province was changed from Newfoundland to Newfoundland and Labrador in 2001.
The north coast of the Island of Newfoundland faces the Labrador Sea and the east and south coasts face the open North Atlantic Ocean. The west coast faces the Gulf of Saint Lawrence. The Cabot Strait separates Newfoundland from Nova Scotia to the southwest and the Strait of Belle Isle separates the Island of Newfoundland from Labrador on the northwest. This page lists lighthouses of the deeply-dissected southeastern corner of Newfoundland: the Bonavista, Bay de Verde, Avalon, and Burin Peninsulas. Lighthouses of the rest of the island are on the Southwestern Newfoundland and Northern Newfoundland pages.
Having a rocky and much-indented coast, Newfoundland established a large number of light stations, many of which remain active today. Until quite recently nearly all the lighthouses remained in the care of the Canadian Coast Guard's Newfoundland and Labrador Region. Now preservation organizations are beginning to appear in many communities.
Newfoundland is accessible by air and by Marine Atlantic ferries from North Sydney, Nova Scotia. Ferry service is available year-round between North Sydney and Port aux Basques and in the summer between North Sydney and Argentia.
CCG numbers are from the Newfoundland volume of the List of Lights, Buoys, and Fog Signals of Fisheries and Oceans Canada. ARLHS numbers are from the ARLHS World List of Lights. Admiralty numbers are from Volume H of the Admiralty List of Lights & Fog Signals. U.S. NGA numbers are from Publication 110.
General Sources

Photos and information posted by Kraig Anderson.
Photos by Karen Chappell and Joe Dawson.
10 fine photos by Karl Josker.
Photos available on Flickr.com.
A fine collection of 37 photos by "Litehouseman."
Newfoundland lighthouse photos posted on MarineTraffic.com
Photos available from Wikimedia.
Photos by various photographers posted by Alexander Trabas. Photos for this area are by Brigitte Adam and Douglas Cameron.
Historic postcard views posted by Klaus Huelse.
Official Canadian light lists.
Nautical chart for Newfoundland.
Nautical chart for Newfoundland.

Cape Pine Light, Trepassy, July 2008
Wikimedia Creative Commons photo by Nilfanion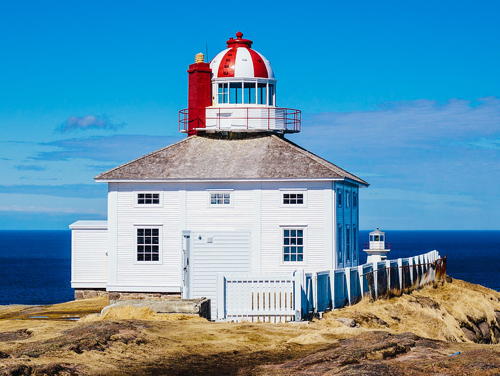 1836 Cape Spear Light, St. John's, April 2015
Flickr Creative Commons photo by Ming Li