This page is for lighthouses of the former Soviet republic of Georgia, not the U.S. state that has the same name by coincidence. The citizens of the country call it Sakartvelo; the name "Georgia" seems to come from an early name Gurzhan or Gurjistan. Georgia, or Sakartvelo, is located south of the Caucasus Mountains at the eastern end of the Black Sea. After being annexed by the Russian Empire in 1800, Georgia was briefly independent during the Russian Revolution (1918-21). The country was then incorporated into the Soviet Union from 1921 to 1991.
Historically, Georgia was primarily an inland nation that struggled to maintain control over the neighboring Black Sea coastline. The coastal region has three distinct parts: Adjara in the southwest, Guria in the west and Mingrelia (Samegrelo) in the northwest. Each of these regions has its own complex history and each has a distinct status today (as described below). Poti is the major port of Mingrelia, and Batumi (Batum) is the capital and major port of Adjara. The Ukrainian line UKRFerry provides rail, auto, and passenger ferry service across the Black Sea between Poti and Batumi and ports in Ukraine, Romania and Turkey.
A note is in order concerning Abkhazia, an autonomous republic on Georgia's northwestern frontier with Russia. In 1931 the Soviet Union transferred Abkhazia from the Russian Federation to the Soviet Republic of Georgia. After Georgia regained its independence in 1991 Abkhazia revolted against Georgian rule. A bitter struggle in 1992-93 led to Abkhazia becoming a de facto independent state guarded by Russian peacekeeping troops. The independence of Abkhazia from Georgia is not recognized internationally. However, since reunion of Abkhazia with Georgia does not seem likely in the near future the lighthouses of Abkhazia are listed on a separate page.
Lighthouses in Georgia are maintained by the State Hydrographic Service. The Georgian language is written in a distinctive script; the word for a lighthouse is shuqura (შუქურა) and konts'hki (კონცხი) is a cape
ARLHS numbers are from the ARLHS World List of Lights. Admiralty numbers are from volume N of the Admiralty List of Lights & Fog Signals. U.S. NGA List numbers are from Publication 113.
General Sources

Photos of four lighthouses (one in Abkhazia) posted by the State Hydrographic Service.
Photos by various photographers available from Wikimedia (includes Abkhazia).
Photos by various photographers available from Lightphotos.net.
Coming soon: photos by various photographers posted by Alexander Trabas (includes Abkhazia).
Nothing here yet, but hopefully this webmaster will be adding information on the lighthouses.
Historic postcard images posted by Klaus Huelse; the Georgian section is near the bottom of the page.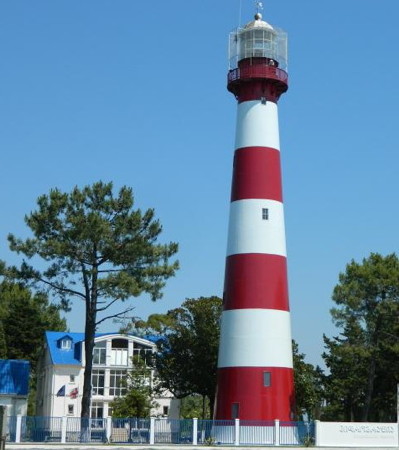 Poti Light, Poti, 2013
Georgian State Hydrographic Service photo