The U.S. state of Kansas is in the center of the country, far from the coasts. The Missouri River, flowing along the northeastern border of Kansas, is the only major navigable waterway touching the state.
Note: to be listed in the Directory, a lighthouse must actually serve as an aid to navigation. This means it must be located on a navigable lake or river and must be lit as a navigational aid at least during the local boating season.
USCG numbers are from Volume 5 of the U.S. Coast Guard List of Lights.
General Sources

The USCG Light List can be downloaded in pdf format.
Missouri River Lighthouse

Kansas City Water Intake

Date unknown. Active; focal plane about 40 ft (12 m); green flash every 6 s. About 40 ft (12 m) round masonry water intake tower. Warren White's photo is at right, Will England has a 2014 photo and a blog entry with additional photos, and Google has a satellite view. This may be a historic structure, but we do not know its history. Located on the Missouri River about 0.6 mi (1 km) east of the I-635 bridge north of Kansas City. Site and tower closed but there is a view from the Missouri Riverfront Trail on the other side of the river. Owner/site manager: Kansas City Board of Public Utilities. USCG 5-19505.
Information available on lost lighthouses:
Notable faux lighthouses:
Adjoining pages: North: Nebraska | East: Missouri | South: Oklahoma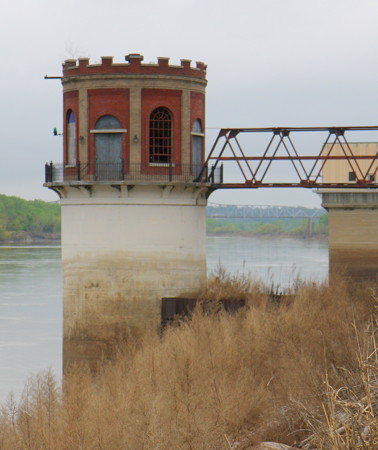 Kansas City Water Intake Light, Kansas City, May 2013
photo copyright Warren White; used by permission