The United States of America is a federal union of 50 states and a capital district. The east coast state of Maryland straddles the northern half of the Chesapeake Bay, the great estuary formed by the lower course of the Susquehanna River. The two sides of the Chesapeake are known in Maryland as the Eastern Shore and the Western Shore. Baltimore, on the Western Shore, is the state's largest city and a major port. Another broad estuary, the Potomac River, forms part of the southern border of Maryland and leads to the national capital of Washington.
In the early nineteenth century John Donahoo (1786-1858) built a dozen stone or brick lighthouses on the upper Chesapeake. Seven survive and two are still active. Maryland is also famous for its cottage-style screwpile lighthouses, although only four of these picturesque buildings remain. In 1900 there were 45 cottage screwpile lighthouses on the Chesapeake. In a few cases modern lights are mounted on the original screwpile platform, and these stations are included below.
Navigational aids in the United States are operated by the U.S. Coast Guard, but ownership (and sometimes operation) of historic lighthouses has been transferred to local authorities and preservation organizations in many cases. Maryland lights are the responsibility of the Coast Guard's Sector Maryland-National Capital Region based at Baltimore.
ARLHS numbers are from the ARLHS World List of Lights, Admiralty numbers are from volume J of the Admiralty List of Lights & Fog Signals, and USCG numbers are from Vol. II of the U.S. Coast Guard Light List.
General Sources

The chapter works for the preservation of lighthouses throughout Virginia and Maryland; its web site includes a Lighthouse Heritage section with information on the lighthouses.
Excellent photos and historical accounts by Kraig Anderson.
Aerial photos posted by Marinas.com.
Matthew Jenkins, of the Chesapeake Chapter USLHS, has excellent photos and brief accounts of the lighthouses.
Photos by various photographers posted by Alexander Trabas.
Photos by various photographers available from Wikimedia.
Historic postcard images posted by Klaus Huelse.
The USCG Light List can be downloaded in pdf format.
Nautical charts for the coast can be viewed online.
Navigation chart for Chesapeake Bay.

Concord Point Light, Havre de Grace, June 2011
Flickr Creative Commons photo by James Hatcher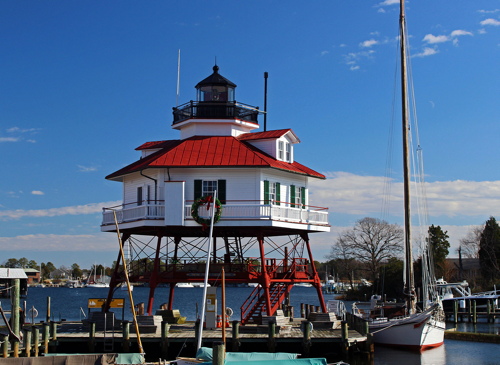 Drum Point Light, Solomons, December 2012
Flickr Creative Commons photo by scott1346