The Galápagos Islands are a group of volcanic islands stretched along the Equator in the easternmost Pacific Ocean, about 750 km (475 mi) due west of the mainland of Ecuador. The archipelago was annexed by Ecuador in 1832 and the first settlements were made in that year. In 1959 the islands were made a national park. Famous for exotic scenery and even more exotic wildlife, the islands quickly became a popular tourist destination. In order to support this tourism the permanent population has increased to about 25,000.
The islands have been officially renamed the Archipiélago de Colón (Columbus Islands), although this name is rarely used outside the country. Politically, however, the islands are organized as Galápagos Province.
There are no historic lighthouses in the Galápagos, but in recent years several small lights have been built. Additional information and photos of these lights would be welcome.
Aids to navigation in Ecuador are owned by the Navy (Armada del Ecuador) and maintained by the Departamento de Ayudas a Navegación of the Navy's Instituto Oceanográfico. The Spanish word for a lighthouse is faro.
ARLHS numbers are from the ARLHS World List of Lights. Admiralty numbers are from volume G of the Admiralty List of Lights & Fog Signals. U.S. NGA List numbers are from Publication 111.
General sources

Photos by various photographers posted by Alexander Trabas. Most of the Galápagos photos are by Arno Siering.
From their Phares du Monde web site, Alain Guyomard and Robert Carceller have photos of four lights in the Galápagos.
Photos by various photographers available from Lightphotos.net.
Photos by various photographers available from Wikimedia.
Navigational chart information for the Galápagos.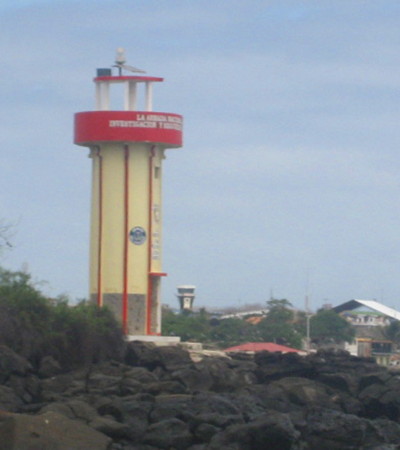 Playaman Light, Isla San Cristóbal, August 2007
Wikimedia Creative Commons photo by Iris Diensthuber