Located in the western Great Lakes region, the U.S. state of Wisconsin has two coastlines. One coastline faces north on Lake Superior and includes the Apostle Islands stretching out into the lake. The other coastline faces east on Lake Michigan. This page includes lighthouses of the Lake Superior coastline; the remaining Wisconsin lighthouses are on the Eastern Wisconsin page.
There is no state lighthouse preservation society in Wisconsin but many local lighthouse societies are active.
Aids to navigation in northern Wisconsin are maintained by the U.S. Coast Guard Aids to Navigation Team Duluth, located in neighboring Minnesota, but ownership (and sometimes operation) of historic lighthouses has been transferred to local authorities and preservation organizations in most cases.
ARLHS numbers are from the ARLHS World List of Lights. USCG numbers are from volume 7 of the U.S. Coast Guard List of Lights.
General Sources

An excellent site, part of Kraig Anderson's LighthouseFriends.com site; it includes photos and historical accounts for each lighthouse.
This site, written by Terry Pepper, also has fine photos and extensive historical accounts.
Maintained by Neil Schultheiss, this site has good photos and short accounts for most of the state's lighthouses.
Excellent aerial photos posted by Marinas.com.
Excellent photos by C.W. Bash.
Photos by various photographers available from Wikimedia.
Photos of all the state's lighthouses by Bob and Sandra Shanklin.
Historic postcard images posted by Klaus Huelse.
The Lighthouse Celebration is a festival of tours and programs held each September at Apostle Islands National Lakeshore. Site includes lighthouse photos and other information.
Nautical charts for the coast can be viewed online.
The USCG Light List can be downloaded in pdf format.

Wisconsin Point Light, Superior, October 2014
Flickr Creative Commons photo by evilfoo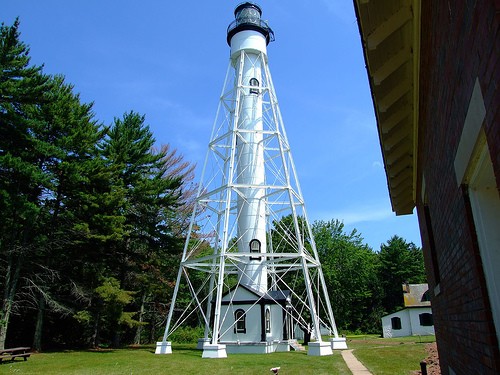 1880 Michigan Island Light, Apostle Islands National Park, July 2007
Flickr Creative Commons photo by Austin Gruenweller