There are two central African nations named for the Congo River: the Republic of the Congo and the Democratic Republic of the Congo. Both nations have been independent since 1960.
The Democratic Republic of the Congo (DRC) is the former Belgian Congo. Sometimes called DR Congo or Congo Kinshasa and formerly called Zaire, the Democratic Republic is located mostly south of the Congo River in the interior of the continent. The country has only a very short Atlantic coastline, about 35 km (22 mi) long, extending north from the river's mouth. The south side of the mouth of the Congo is in Angola, and north of the Democratic Republic's coastline is the disjunct Angolan province of Cabinda. Thus the coast of the Democratic Republic is the western end of a narrow corridor through Angolan territory.
The only port on the DRC coast is a small facility at Banana Creek, a short distance north of the Congo River entrance. The DRC's principal seaports are Boma, located on the north bank of the Congo about 100 km (60 mi) from the coast, and Matadi, located on the south bank of the Congo about 150 km (90 mi) from the coast. Navigational aids in the Democratic Republic are presumably maintained by the Office National des Transports (ONATRA), which operates the ports of Boma and Matadi.
Special thanks to Alan Munday and Samuel Hedouin for permission to present their photos of these rarely-seen lighthouses.
ARLHS numbers are from the ARLHS World List of Lights. Admiralty numbers are from volume D of the Admiralty List of Lights & Fog Signals. U.S. NGA List numbers are from Publication 113.
General Sources

Photos by various photographers available from Lightphotos.net.
Photos by various photographers posted by Alexander Trabas.
Historic postcard views from the collection of Klaus Huelse.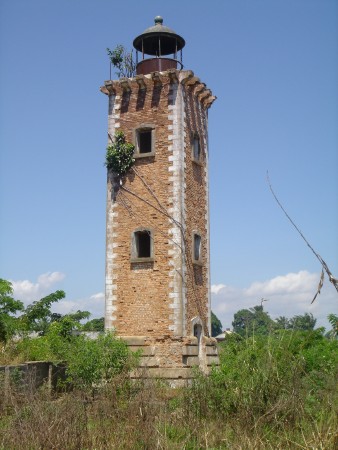 Muanda Light, Muanda, April 2008
photo copyright Alan Munday; used by permission