The Ōsumi and Amami Islands, together with neighboring groups of smaller islands, form the northern half of the Nansei (or Ryūkyū) Islands (Nansei-shotō or "southwest islands" in Japanese), an archipelago extending southwestward from Kyūshū towards Taiwan. Administratively these islands are part of Kagoshima Prefecture, the southernmost prefecture of Kyūshū.
Historically the Ryūkyū Islands were a more-or-less independent kingdom paying tribute as needed to either China or Japan or both. Japan annexed the islands in 1879 over Chinese protests; U.S. President Ulysses Grant, called in as arbitrator, ruled in favor of Japan. At the end of World War II in 1945 the Ryūkyū Islands from the Tokara group southward came under U.S. control. The U.S. returned the Tokaras to Japan in 1952 and the Amami Islands in 1953; Japan then attached these islands to Kagoshima Prefecture. Okinawa and the islands farther south remained under U.S. control as the Trust Territory of the Ryūkyū Islands. In 1972 the U.S. ceded sovereignty over all of the Ryūkyūs back to Japan and the southern islands then became Okinawa Prefecture.
In Japanese, the word for a lighthouse is tōdai or toudai (灯台). The words saki and misaki are for capes and headlands, shima (also spelled sima or jima) is an island, wan is a bay, and kō is a harbor. Lighthouses in Japan are operated and maintained by the Japanese Coast Guard's Maritime Safety Agency. Lighthouses in the Ōsumi islands are maintained by the Coast Guard office at Kagoshima City, Kyūshū.
ARLHS numbers are from the ARLHS World List of Lights. JCG numbers are the Japanese Coast Guard's light list numbers. Admiralty numbers are from volume M of the Admiralty List of Lights & Fog Signals. U.S. NGA List numbers are from Publication 112.
General Sources

A comprehensive site, although almost entirely in Japanese.
This site has many excellent photos of Japanese lighthouses.
Information and photos posted by the Tenth Coast Guard Region office, which is responsible for Kagoshima Prefecture.
Photos by various photographers available from Wikimedia.
Photos by various photographers posted by Alexander Trabas.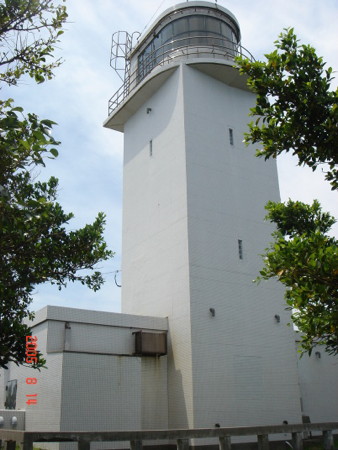 Kashika Saki Light, Nishioomote, August 2005
Japanese Coast Guard photo