The nation of Japan, known in Japanese as Nihon or Nippon (日本), occupies an archipelago off the east coast of Asia. The four main islands are Hokkaidō in the north, Honshū (the largest), Shikoku in the south, and Kyūshū in the southwest. The country includes thousands of other islands of all sizes; among them the Ryūkyū (Nansei) Islands are a long chain extending to the southwest and including the large island of Okinawa, and the Nanpō Islands are another long chain extending south into the Pacific Ocean. Much of Japan is mountainous but the coastal regions are densely populated and urbanized; the country's population is about 126 million.
Japan is divided into 47 prefectures. Nagasaki Prefecture occupies the western side of the island of Kyūshū and includes many islands offshore in the East China Sea and Korea Strait. This page includes lighthouses of Iki Shima, an island in the Tsushima Strait about 32 km (20 mi) north of the city of Matsuura and about 18 km (11 mi) northwest of Hadano Misaki in Saga Prefecture. The island is about 20 km by 15 km (13 by 9 mi) and is accessible by air or by ferry from Fukuoka. The island is governed as a city within Nagasaki Prefecture, although it is somewhat closer to Saga Prefecture on the mainland of Kyūshū.
In Japanese, the word for a lighthouse is tōdai or toudai (灯台). The words saki and misaki are for capes and headlands, hana ("nose") is a promontory, hantō is a peninsula, shima (also spelled sima or jima) is an island, bae is a reef, iwa or shi is a rocky reef, amase or se is a shoal, wan is a bay, nada is a sound or basin, kaikyō is a strait, kawa is a river, and kō or minato is a harbor.
Lighthouses in Japan are operated and maintained by the Japanese Coast Guard's Maritime Safety Agency. There is at least one Coast Guard Section Office in each prefecture, often two or more. Although Iki Shima is in Nagasaki Prefecture its lighthouses are maintained by the Karatsu Office in neighboring Saga Prefecture.
ARLHS numbers are from the ARLHS World List of Lights. JCG numbers are the Japanese Coast Guard's light list numbers. Admiralty numbers are from volume M of the Admiralty List of Lights & Fog Signals. U.S. NGA List numbers are from Publication 112.
General Sources

This site covers most of the major Japanese lighthouses.
A comprehensive collection of photos of Nagasaki lighthouses.
Another site with many photos of Japanese lighthouses, cited below as FOAL.
This site has photos for many lighthouses in this area.
This site has good photos and background information for more than a dozen Nagasaki area lighthouses.
This web site has photos of several Nagasaki area lighthouses.
Photos by various photographers available from Wikimedia.
Photos by various photographers posted by Alexander Trabas.
Navigation chart for Iki Shima.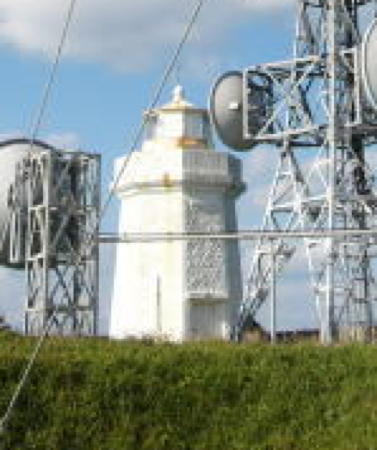 Wakamiya Shima Light, Iki Shima
Japanese Coast Guard Fukuoka Office photo