The nation of Japan, known in Japanese as Nihon or Nippon (日本), is divided into 47 prefectures. Nagasaki Prefecture occupies the western side of the island of Kyūshū and includes many islands offshore in the East China Sea and Korea Strait. One of them is Tsushima, an island halfway between Kyūshū and South Korea, separated from Kyūshū by the Tsushima Strait and from South Korea by the Western Channel of the Korea Strait. The island is about 130 km (80 mi) long and 15-20 km (9-13 mi) wide, hilly or mountainous in most areas. The island is sparsely populated with a permanent population of a little over 40,000. Most of the island is included in the Iki-Tsushima Quasi-National Park.
Tsushima is accessible by high-speed ferries from Fukuoka and Iki Shima, Kyūshū, and also from Busan, Korea. There is also air service from Fukuoka and Nagasaki. For administration Tsushima is organized as a city within Nagasaki Prefecture.
Tsushima is nearly cut into two by a deep fjord-like inlet called Asō Bay, and a canal has been built to complete the separation. The northern (and larger) section is called Kamino Shima, and the southern portion is Shimono Shima.
In Japanese, the word for a lighthouse is tōdai or toudai (灯台). The words saki and misaki are for capes and headlands, hana ("nose") is a promontory, hantō is a peninsula, shima (also spelled sima or jima) is an island, bae is a reef, iwa or shi is a rocky reef, amase or se is a shoal, wan is a bay, nada is a sound or basin, kaikyō is a strait, kawa is a river, and kō or minato is a harbor.
Lighthouses in Japan are operated and maintained by the Japanese Coast Guard's Maritime Safety Agency. There is at least one Coast Guard Section Office in each prefecture, often two or more. Tsushima has its own Coast Guard office located at Izuhara.
ARLHS numbers are from the ARLHS World List of Lights. JCG numbers are the Japanese Coast Guard's light list numbers. Admiralty numbers are from volume M of the Admiralty List of Lights & Fog Signals. U.S. NGA List numbers are from Publication 112.
This site has photos and information the major Japanese lighthouses.
Photos and notes for most Japanese lighthouses.
An index to a large collection of photos; the lights are identified by the JCG number.
Photos and information about all the major lights of the island.
Photos by various photographers posted by Alexander Trabas.
Navigation chart for Tsushima.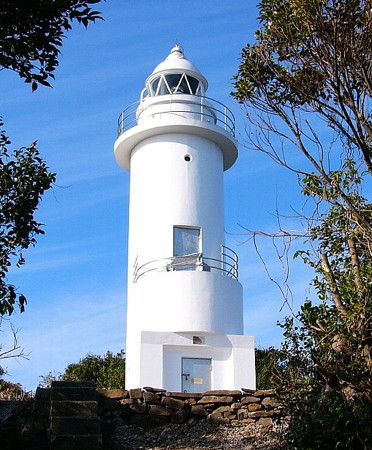 Tsushima Kuro Shima Light, Bitsushima
Japanese Coast Guard Tsushima Office photo