Hokkaidō is the northernmost of the four main islands of Japan. It is very roughly triangular in shape, facing north on the Sea of Okhotsk, southeast on the Pacific Ocean, and west on the Sea of Japan. It is separated from Honshū to the south by the Tsugaru Strait and from Russian Sakhalin to the north by the La Pérouse or Sōya Strait.
The nation of Japan, known in Japanese as Nihon or Nippon (日本), is divided into 47 prefectures. The entire island of Hokkaidō forms a single prefecture, making it by far the largest of the 47. The prefecture is divided into nine administrative regions, called subprefectures in English. The subprefectures of Hokkaidō are similar in size to the prefectures in the other main islands.
This page covers lighthouses of the southeastern coast of Hokkaidō in Hidaka and Iburi subprefectures. This coast faces southward on the Pacific Ocean and the broad inlet of Uchiura Bay.
In Japanese, the word for a lighthouse is tōdai or toudai (灯台). The words saki and misaki are for capes and headlands, hana ("nose") is a promontory, hantō is a peninsula, shima (also spelled sima or jima) is an island, bae is a reef, iwa or shi is a rocky reef, amase or se is a shoal, wan is a bay, nada is a sound or basin, kaikyō is a strait, kawa is a river, and kō or minato is a harbor.
Lighthouses in Japan are operated and maintained by the Japanese Coast Guard's Maritime Safety Agency. Lighthouses in Hidaka and Iburi subprefectures are maintained by the Muroran Coast Guard office.
ARLHS numbers are from the ARLHS World List of Lights. JCG numbers are the Japanese Coast Guard's light list numbers. Admiralty numbers are from volume M of the Admiralty List of Lights & Fog Signals. U.S. NGA List numbers are from Publication 112.
General Sources


Photos and data for Hokkaidō lighthouses.
Another site with excellent photos and text in Japanese.
Photos and brief notes in English.
Another site with many photos of lighthouses in northern Japan, cited below as FOAL.
Another good source of lighthouse photos.
Photos posted by the Muroran Coast Guard Office.
Photos by various photographers available from Wikimedia.
Historic postcard views posted by Michel Forand.
Photos by various photographers posted by Alexander Trabas. Photos for this area are by Douglas Cameron.
Navigation chart for Hokkaidō.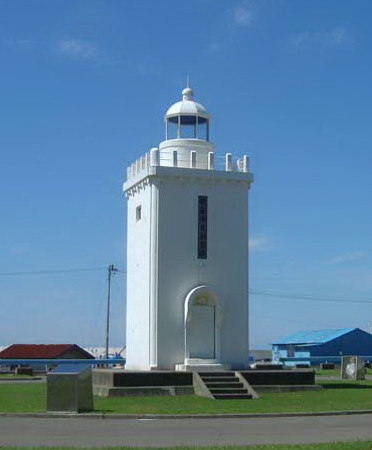 1891 Horoizumi Light, Erimo
Eastern Hokkaidō Regional Development Bureau photo