Most of the U.S. state of Florida occupies a long peninsula separating the Atlantic Ocean from the Gulf of Mexico; the state's western "panhandle" extends westward along the Gulf coast. As a result, Florida has by far the longest coastline of any state of the eastern U.S. Nearly all of the coast is low and sandy, broken occasionally by narrow inlets. For visibility at a distance, the Florida coast requires tall lighthouses.
Florida has about three dozen lighthouses, including several of the country's most famous light towers. The Florida Lighthouse Association (FLA) works for preservation of all the light stations. Nearly all the onshore stations are now supported by local lighthouse societies. Efforts of FLA and local associations have led to restoration projects undertaken or planned at most of the onshore lighthouses. Few states have worked as hard on lighthouse preservation as Florida in recent years.
This page covers lighthouses of Florida's west coast, facing the Gulf of Mexico. Lighthouses of the Florida Keys and the east coast are on separate pages.
Navigational aids in the United States are operated by the U.S. Coast Guard, but ownership (and sometimes operation) of historic lighthouses has been transferred to local authorities and preservation organizations in many cases. Florida Peninsula lights are the responsibility of the Coast Guard's Seventh District based in Miami; those west of the Appalachicola River (from Carrabelle westward) are the responsibility of the Eighth District, based in New Orleans.
ARLHS numbers are from the ARLHS World List of Lights. Admiralty numbers are from volume J of the Admiralty List of Lights & Fog Signals. USCG numbers are from Volume III of the U.S. Coast Guard Light List for lights of the peninsula and from Volume IV for lights of the state's western panhandle.
General Sources

The association works for the preservation of lighthouses throughout the state and has encouraged the formation of a number of local preservation societies. The web site includes a lighthouse page with information on all the lights.
Excellent photos and visitor accounts for most of the lighthouses, posted by Kraig Anderson.
Photos by various photographers available from Wikimedia.
Aerial photos posted by Marinas.com.
Photos by various photographers posted by Alexander Trabas.
A large portfolio of photos by Rosalie Beasley.
Information and historic photos posted by the U.S. Coast Guard.
Photos and information from Stephen Wilmoth's "Beach Bum" web site.
A site posted by the Florida Division of Historical Resources; it has photos and brief accounts for all the lighthouses of the state, with visitor information.
This site by Bill Britten, of the University of Tennesee, has some outstanding photos.
A nice site by Bryan Penberthy, with photos of many of the lighthouses including some of the offshore lights.
Historic postcard images posted by Klaus Huelse.
Nautical charts for the coast can be viewed online.
The USCG Light List can be downloaded in pdf format.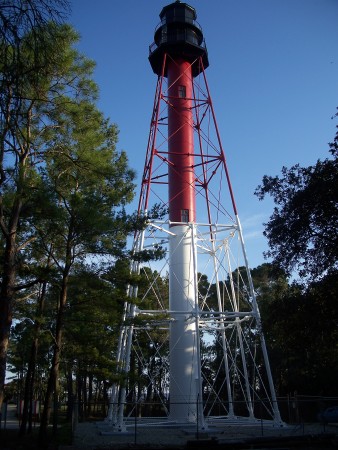 Crooked River Light, Carrabelle, March 2008
Wikimedia Creative Commons photo by Ebyabe

Sanibel Island Light, Sanibel, April 2012
Flickr Creative Commons photo by Pete Markham