American lighthouse construction made little progress from 1820 to 1852, while Stephen Pleasonton, the Fifth Auditor of the Treasury, was the superintendent of U.S. lighthouses. To save money, Pleasonton limited all new lighthouses to a maximum height of 65 feet. The old-style masonry lighthouses of the period share a bluntly conical design, with broad bases and narrow tops designed to hold a small "birdcage" lantern with an Argand lamp, a lighting technology dating from 1781. By European standards, U.S. lighthouses were embarrassingly inadequate and obsolete. Ship captains and ship owners complained continually about the lighthouses being too short, too dim, poorly located, and often out of service altogether.
Congress approached the problem by involving military engineers, first as inspectors of lighthouses and then as consultants on their design. In 1847, Congress directed that six proposed lighthouses be designed and built by the military instead of by Pleasonton's contractors. The resulting transition from old-style to classic design can be seen clearly at Sankaty Head in Massachusetts. Sankaty Head Light was built in 1850 under the direction of Benjamin F. Isherwood, who became the chief engineer of the U.S. Navy during the Civil War.
70 feet tall, Sankaty Head was the first lighthouse in the U.S. designed from scratch to carry a modern Fresnel lens. To provide for the larger lantern, the tower is broader at the top and less tapered than the old-style brick towers. When it was built, it displayed the most powerful light in New England; local captains called it "the blazing star." Its beacon pointed the way to a new day for American lighthouses. Today it is threatened by erosion of the 90-foot cliff on which it stands, and for a while there was some doubt as to whether it was worth saving. But in 2007 the 'Sconset Trust, using $4 million in private donations, relocated the lighthouse 400 ft (122 m) northwest. Indeed it is worth saving: as the very first of the modern masonry lighthouses, it is an important architectural landmark in U.S. lighthouse construction.
In 1852 Congress removed the lighthouses from Pleasonton's control and placed them under a new Lighthouse Board dominated by military officers. The Board immediately launched a major effort to build very tall masonry lighthouses at more than a dozen locations along the sandy shores of the mid-Atlanic and Southeast. Most of these lighthouses were completed between 1857 and 1860. Construction on others was interrupted by the Civil War (1861-65), and some of those towers weren't finished until the late 1860's.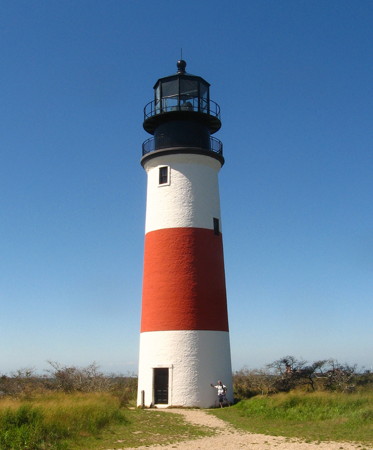 Sankaty Head Light, Nantucket, Massachusetts, September 2010
Flickr Creative Commons photo by Ethan Oringel