Most of the U.S. state of Florida occupies a long peninsula separating the Atlantic Ocean from the Gulf of Mexico; the state's western "panhandle" extends westward along the Gulf coast. As a result Florida has by far the longest coastline of any state of the eastern United States. Nearly all of the coast is low and sandy, broken occasionally by narrow inlets leading to shallow lagoons. For visibility at a distance the Florida coast requires tall lighthouses.
The Florida Keys are a chain of some 1700 islands, islets, and sandbars extending in a long arc southwest and south from Miami. Key West, the westernmost inhabited island, is connected to Miami by the 125 miles (200 km) of the Overseas Highway (US 1). Beyond Key West, the last islands in the chain are the uninhabited Dry Tortugas, which are now protected as a national park. Monroe County includes all of the Florida Keys.
Florida has about three dozen traditional lighthouses including several of the country's most famous light towers. The Florida Lighthouse Association (FLA) works for preservation of all the light stations. Nearly all the onshore stations are now supported by local lighthouse societies and FLA helped organize a Reef Lights Association to work for preservation of the offshore lights. Efforts of FLA and local associations have led to restoration projects undertaken or planned at most of the onshore lighthouses. Few states have worked as hard on lighthouse preservation as Florida in recent years.
The word key for an island, used throughout Florida, comes from the Spanish cayo, which in turn was derived from cairi, the word for an island in the language of the indigenous Taíno people, the original inhabitants of Cuba and the Bahamas.
Navigational aids in the United States are operated by the U.S. Coast Guard, but ownership (and sometimes operation) of historic lighthouses has been transferred to local authorities and preservation organizations in many cases. Florida Keys lights are the responsibility of the Coast Guard's Seventh District based in Miami.
ARLHS numbers are from the ARLHS World List of Lights. Admiralty numbers are from volume J of the Admiralty List of Lights & Fog Signals. USCG numbers are from Volume III of the U.S. Coast Guard Light List.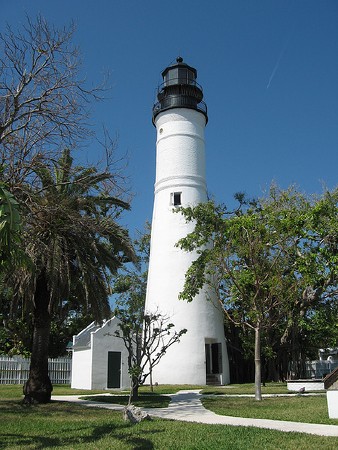 Key West Light, Key West, March 2006
Flickr Creative Commons photo by Matt Price