Sardinia (Sardegna in Italian) is the second largest island of the Mediterranean, after Sicily; the island is about 270 km (170 mi) from north to south and 145 km (90 mi) from east to west. Most of Sardinia is mountainous, and the coastline is rugged. The island has a long and complex history. After several centuries of Spanish rule, the Kingdom of Sardinia became independent in 1718. For many years after that, Sardinia controlled substantial territory on the mainland, including Genoa in Italy and Nice in France. And in 1861, when Italy was united as a single country, the king of Sardinia became king of Italy.
This page includes lighthouses of Sardinia's northern coasts in the provinces of Sassari, Olbia-Tempio, and Nuoro.
The Italian word for a lighthouse is faro, plural fari. This name is usually reserved for the larger coastal lights; smaller beacons are called fanali. Aids to navigation are operated and maintained by the Italian Navy's Servizio dei Fari. Lighthouse properties are naval reservations, generally fenced and closed to the public.
ARLHS numbers are from the ARLHS World List of Lights. EF numbers are from the Italian Navy's light list, Elenco dei Fari e Segnali da Nebbia. Admiralty numbers are from volume E of the Admiralty List of Lights & Fog Signals. U.S. NGA List numbers are from Publication 113.
Special thanks to Egidio Ferrighi for his helpful comments on this page and to Michel Forand for sharing his extensive and careful research on Italian lighthouses.
General Sources

Lighthouse information from the Italian Navy's Servizio dei Fari.
Photos by various photographers posted by Alexander Trabas. Many of the photos for Sardinia are by Egidio Ferrighi or Arno Siering.
Photos posted by Andrea Utzeri.
Photos by various photographers available from Wikimedia.
Photos by various photographers available from Lightphotos.net.
Aerial photos posted by Marinas.com.
Photos of Sardinian lighthouses by Egidio Ferrighi, posted by Gary Richardson and Anna Klein.
Historic postcard images posted by Klaus Huelse.
Navigational chart for Sardinia.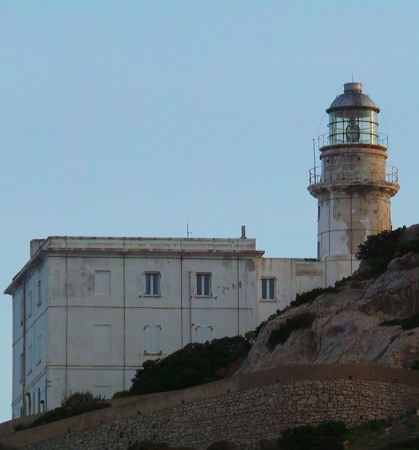 Capo Caccia Light, Porto Conte, April 2017
Google Plus photo by Simone Manunta