The smaller of the two main British Isles, the island of Ireland is separated from Great Britain to its east by the North Channel, the Irish Sea, and St George's Channel. Ireland came under English rule in the 16th and 17th centuries and in 1801 the United Kingdom of Great Britain and Ireland was formally established. Following decades of struggle most of Ireland became independent in 1922. The northern portion remained in the United Kingdom, forming the present United Kingdom of Great Britain and Northern Ireland.
Northern Ireland is governed as an autonomous region within the United Kingdom. Most of its coast faces Scotland across the North Channel. Belfast is the capital and largest city; Londonderry (Derry) and Belfast are the major ports.
Historically Ireland was divided into 32 counties and Northern Ireland includes six of them. The six northern counties no longer have any local government function although they have great cultural recognition; instead the region is divided into eleven local government districts.
The division of Ireland did not change the administration of the coastal Irish lighthouses. The Commissioners of Irish Lights, a corporation chartered by the Irish Parliament in 1786 and based in Dublin, continues to operate the major coastal lighthouses in both Northern Ireland and the Irish Republic. Harbor lights are operated by the local harbor authorities.
The Irish language is spoken commonly as a first or second language in Ireland. The Irish phrase for a lighthouse is teach solais (plural tithe solais). Oileán (plural oileáin) is an island, cuan is a bay, inbhear is an estuary, rinn is a cape, and chuain is a harbor. A lough (pronounced like the Scottish loch) is a lake or an inlet of the sea.
ARLHS numbers are from the ARLHS World List of Lights. CIL numbers are from the light list of the Commissioners of Irish Lights. Admiralty numbers are from Volume A of the Admiralty List of Lights & Fog Signals. U.S. NGA numbers are from Publication 114.
General Sources
Commissioners of Irish Lights - Our Lighthouses

An interactive map leads to pages for each of the CIL lighthouses.
Peter Goulding's informative blog on the lighthouses of Ireland. There are pages for County Derry, County Antrim and County Down.
This website provides information on twelve Irish lighthouses CIL has identified for tourism development. Three are in Northern Ireland (Rathlin West, Blackhead Antrim, and St. John's Point).
Photos by various photographers posted by Alexander Trabas.
Photos available from Wikimedia; many of these photos were first posted on Geograph.org.uk.
Photos by various photographers available from Lightphotos.net.
Aerial photos posted by Marinas.com.
Historic postcard images posted by Klaus Huelse.
Navigation chart information for Northern Ireland.
Navigation chart for Northern Ireland.

Blackhead Light, County Antrim, June 2023
Instagram photo by Oleg Promakhov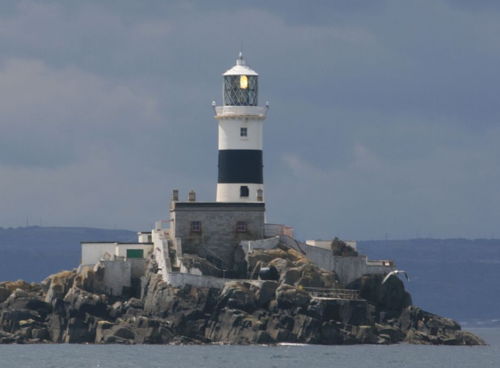 East Maidens Light, North Channel, June 2008
Flickr Creative Commons photo by David Maxwell