Argentina has a lengthy coastline, extending from the warm waters of the Río de la Plata to the edge of the icy Antarctic ocean. This page includes lighthouses of the southernmost part of the country, Tierra del Fuego. Separated from the mainland by the Strait of Magellan, Tierra del Fuego is divided between Argentina and Chile in such a way that the entire Strait, including its eastern entrance, is in Chile; this leaves a gap in the Argentine coastline at the Strait entrance. Most visitors to Argentine Tierra del Fuego arrive by air or cruise ship, but it is possible to drive to the territory, crossing the Strait by ferry at Punta Delgada, Chile.
Active lighthouses in Argentina are owned by the Argentine Navy and managed by the Navy's Servicio de Hidrografía Naval (SHN). The Spanish word for a lighthouse is faro; smaller lighthouses are often called balizas (beacons).
Interest in lighthouses seems to be fairly high in Argentina. In the past, there hasn't been much concern about preservation, since the great majority of the lighthouses are being maintained by the Navy. However, in recent years there has been increasing concern about the preservation of several of the country's most historic lighthouses, especially those in the far south.
ARLHS numbers are from the ARLHS World List of Lights. Admiralty numbers are from volume G of the Admiralty List of Lights & Fog Signals. U.S. NGA List numbers are from Publication 110, except for lights of the Beagle Channel, which are from Publication 111. The official Argentine light list, Faros y Señales Marítimas, is not available online.
General Sources

Official SHN lighthouse site, with data and small photos. Unfortunately, it is not possible to link directly to the pages for individual lighthouses.
Index to lighthouse articles and photos in the Spanish Wikipedia.
Photos and brief historical accounts for Argentine lighthouses.
The ARLHS listing of Argentine lights; the society has photos for most of them.
Photos posted on Flickr.com by Carlos María Silvano.
Photos by various photographers posted by Alexander Trabas.
Photos by various photographers available from Lightphotos.net.
Photos available from Wikimedia.
Navigational chart information for Argentine Tierra del Fuego.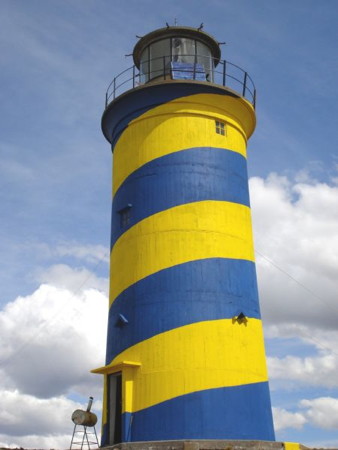 San Sebastián Light, Tierra del Fuego
unattributed photo from farosdelmundo.com.ar
(no longer online)