For most of its history, Korea was an independent kingdom, or at least an autonomous kingdom under Chinese influence. This came to an end in 1910, when Japan annexed all of Korea. At the end of World War II in 1945, the 38° parallel was established as the dividing line between U.S. and Soviet zones of occupation, and in 1948 separate civil administrations were established in the two halves of the country. The Korean War (1950-53) ended in a draw, with the armistice line falling close to the prewar 38° line. The Republic of Korea (ROK), commonly called South Korea, occupies the Korean peninsula south of the armistice line.
This page covers lighthouses of Sinan County, an island county of Jeollanam Province, located on South Korea's southwest coast in the region formerly known as Jeolla or Cholla. The county includes a large archipelago west of Mokpo. Also included in the county are the more remote Heuksan Islands; their lighthouses are listed on a separate page.
Following several recent government reorganizations, navigational aids in the ROK are now regulated by the Ministry of Oceans and Fisheries (MOF). Lighthouses in Sinan are maintained by the Mokpo Regional Maritime Affairs and Port Authority.
In Korean, the word for a lighthouse is deungdae (등대); dan is a cape, do is an island, and hang is a harbor.
ARLHS numbers are from the ARLHS World List of Lights. Admiralty numbers are from volume M of the Admiralty List of Lights & Fog Signals. U.S. NGA List numbers are from Publication 112.
General Sources

Photos and information in English for the major lighthouses of the area.
Photos posted by the Mokpo MOF office.
KAAN is the Korean Association of Aids to Navigation. Small photos and basic data, all in Korean.
Photos available from Wikimedia.
Photos by various photographers posted by Alexander Trabas.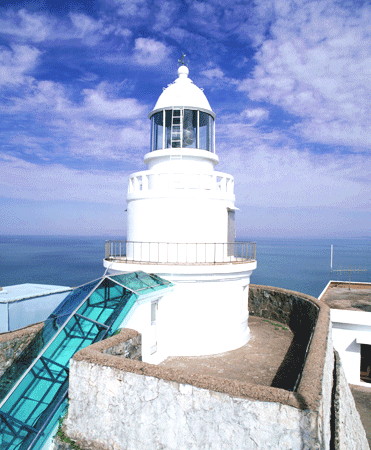 Chilbaldo Light, Bigeum
Korean Association of Aids to Navigation photo