Russia (Россия, Rossiya in Russian) is by far the world's largest country, spanning a little over 150° in longitude. It is organized as the Russian Federation (Rossiyskaya Federatsiya) with 85 members known as federal subjects (sub'yekty federatsii). Russia is primarily a continental nation but it has important coastlines on the Baltic, Black, and Caspian Seas and very long coastlines on the Arctic Ocean and North Pacific Ocean. To guard these coasts it operates hundreds of lighthouses, many of them historic.
Russia's Northern Sea Route (Sevmorput) is a well developed sea lane extending through the Arctic Ocean to connect the Atlantic and Pacific. The route extends from Murmansk at the northwestern corner of Russia past the island of Novaya Zemlya and parallel to the Siberian coast all the way to the Bering Strait.
Taymyria is the region of the Arctic including the Taymyr Peninsula, the northernmost extension of Eurasia. The region borders two basins of the Arctic Ocean, the Kara Sea to the northwest and the Laptev Sea to the northeast. Administratively it is a part of the Taymyrsky Dolgano-Nenetsky District of Krasnoyarsk Krai. The district has fewer than 35,000 permanent residents, most of whom live in the town of Dudinka on the lower Yenisey River.
This page includes lighthouses of the Taymyr peninsula area; there is a separate page for the lighthouses of the Yenisey Gulf.
The Russian word for a lighthouse is mayak (маяк); ostrov is an island, poluostrov is a peninsula, mys is a cape, bukhta or guba is a bay, zaliv is a larger bay or gulf, proliv is a strait, reka is a river, and gavan' is a harbor.
Russian lighthouses are owned by the Russian Navy and maintained by the Navy's Office of Navigation and Oceanography (Управление навигации и океанографии).
ARLHS numbers are from the ARLHS World List of Lights. Admiralty numbers are from volume L of the Admiralty List of Lights & Fog Signals. U.S. NGA numbers are from Publication 115.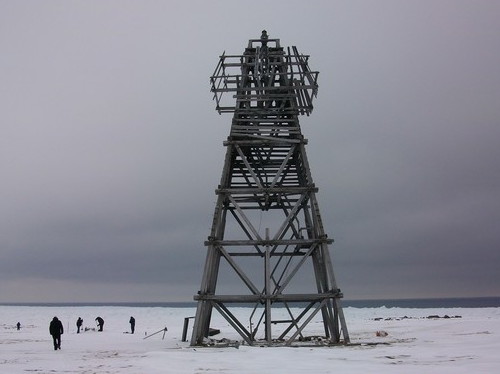 Ostrov Vardropper Light, Plavnikov Islands, April 2011
ex-Panoramio photo copyright Geiden; used by permission