Eritrea is a nation of northeastern Africa with a long coastline on the southwestern side of the Red Sea. The country's modern history is rather complex. Formerly part of the Ottoman Turkish Empire, Eritrea became an Italian colony in the 1880s. British troops captured the country in 1941 and occupied it until 1952, when the United Nations assigned control of Eritrea to Ethiopia. There followed a long and bloody war in which Eritreans won their independence from Ethiopia in 1993.
Aids to navigation in Eritrea are the responsibility of the Maritime Transport Department. The Department is not making any effort to maintain coastal lighthouses but it is attempting to provide lights for the two ports of Massawa and Āseb. Captains report that even these lights are often not in operation.
An extensive shoal, the Dahlak Bank, lies between the central Red Sea and most of the Eritrean coast. This forces ships approaching Massawa, the national capital and major port, to follow hazardous channels close to the coast.
There are additional lighthouses on certain Red Sea islands formerly claimed by Eritrea but in 1999 the Permanent Court of Arbitration at The Hague awarded these islands to Yemen.
The Arabic word for a lighthouse is mnarh or manara (منارة). Ra's is a cape, jaza'ir or jazirat is an island, and shi'b is a reef.
ARLHS numbers are from the ARLHS World List of Lights. Lights on this page were formerly included in volume E of the Admiralty List of Lights & Fog Signals, but in 2013 they were moved to volume D with new numbers. U.S. NGA List numbers are from Publication 112.
General Sources

Photos by various photographers available from Lightphotos.net.
Photos by various photographers posted by Alexander Trabas.
Historic postcard images posted by Michel Forand.
Navigation chart information for this area.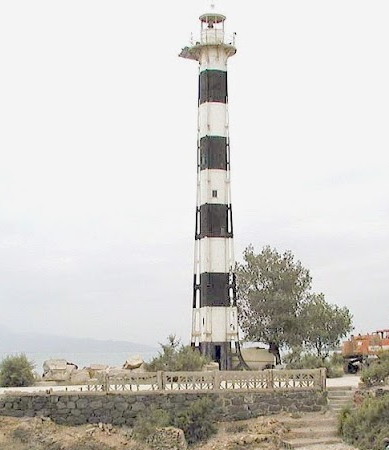 Ra's Madur Light, Massawa, May 2013
Port of Massawa photo by Silvio Niccolai
(this was formerly the port's profile photo on Google Plus)