The nation of Iraq has a very short coastline at the northwestern end of the Persian Gulf. Iraq's access to the sea is the Al Faw Peninsula, a narrow section of the delta of the Shatt al-Arab, the river formed by the confluence of the Euphrates and Tigris rivers. The main course of the Shatt al-Arab, the border between Iraq and Iran, is on the north side of the peninsula; on the south side is the Khawr abd Allah, a strait separating Iraq and Kuwait.
For many years Iraq has operated an offshore oil terminal, Khawr al Amaya, off the end of the peninsula. In 2013 Iraq began construction of a large general purpose port, the Al Faw Grand Port, near the mouth of the Khawr abd Allah. Construction has been delayed repeatedly by financial and political problems, and Iraq has not been able to negotiate access agreements with Kuwait and Iran that would allow large ships to reach the port. Completion is now projected for 2024 assuming these problems can be resolved.
The Arabic word for a lighthouse is mnarh or manara (منارة). Ra's is the word for a cape or headland, jazīrat is an island, and minā is a harbor.
Navigational aids in Iraq are maintained by the port authority, the General Company for Ports of Iraq.
Admiralty numbers are from volume D of the Admiralty List of Lights & Fog Signals. U.S. NGA List numbers are from Publication 112.
General Sources

Photos by various photographers posted by Alexander Trabas.
Navigational chart information for Iraq.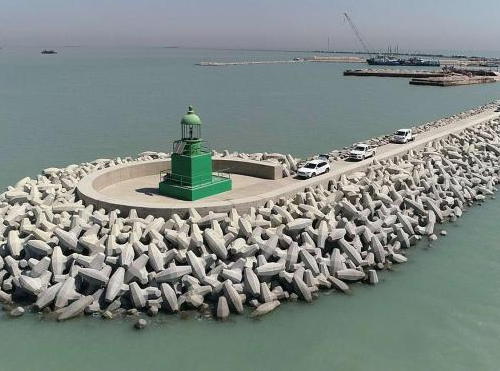 Al Faw Grand Port East Breakwater Light, Al Faw, August 2020
Reuters photo distribued by Iraqi government