This page covers lighthouses of the southern half of Khabarovsk Krai, a huge province on Russia's far eastern coast. The northern coastline of the province faces the Sea of Okhotsk. This page includes lighthouses of the Ulchsky, Vaninsky, and Sovetsko-Gavansky Districts, all of which face the Tartar Gulf, the northern arm of the Sea of Japan. The gulf separates the mainland from the large island of Sakhalin. The major ports in this area are Vanino and Sovetskaya Gavan' (Soviet Harbor), the terminus of the Baikal-Amur Mainline Railroad.
The region is named for Yerofey Khabarov, who explored the area for Russia in 1649-50. However, the region was also claimed by China, and in the 1689 Treaty of Nerchinsk Russia gave up its claim to the heart of the territory, the Amur Basin. The situation was reversed in the 19th century as Russians occupied the area, and in the 1858 Treaty of Aigun Russian sovereignty was established.
The Krasnyy Partizan (St. Nicholas Point) lighthouse shown at right dates from the very late 1800s, but nearly all the other lighthouses in the region were built by the Soviet Union (1917-1991). During the Soviet period, few foreigners were able to visit Russia's Pacific ports, and even today tourism in the Russian far east is not well developed. As a result, no photos are available for many of the lighthouses. If you have or can locate additional photos, please let me know.
Russian lighthouses are owned and operated by the Russian Navy, although some of them have civilian keepers. The Russian word for a lighthouse is mayak (маяк); mys is a cape, bukhta is a bay, zaliv is a larger bay or gulf, gavan' is a harbor, and ostrov is an island.
ARLHS numbers are from the ARLHS World List of Lights. Admiralty numbers are from volume M of the Admiralty List of Lights & Fog Signals. U.S. NGA List numbers are from Publication 112.
General Sources

This Russian-language reference provides valuable historical information.
Photos by various photographers available from Lightphotos.net.
Coming soon: photos by various photographers posted by Alexander Trabas.
Navigational chart information for this area.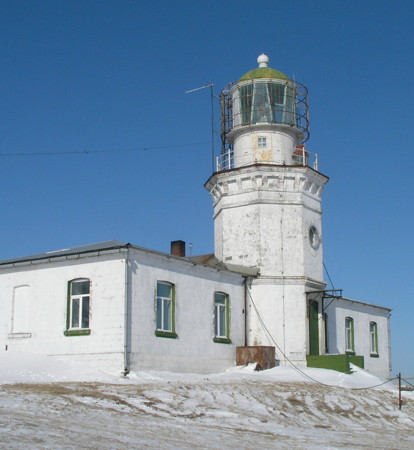 Krasnyy Partizan Light, Sovetskaya Gavan', February 2012
Panoramio photo copyright dsem61; permission requested