Réunion is a volcanic island in the Indian Ocean roughly 800 km (500 mi) east of Madagascar. The island is elliptical in shape, about 70 km (45 mi) by 40 km (25 mi). It was uninhabited when Portuguese navigators discovered it in 1513. Settled by the French around 1640, Réunion has remained French ever since; today it is an overseas département of the French Republic. The island has a population of about 870,000.
Réunion has no natural harbors of any size, so beginning in the late nineteenth century an artificial harbor called Port Réunion, or simply Le Port, was cut into the coast near Pointe des Galets, at the northwestern corner of the island.
The French word for a lighthouse, phare, is often reserved for the larger coastal lighthouses; a smaller light or harbor light is called a feu (literally "fire," but here meaning "light"). The front light of a range (alignement) is the feu antérieur and the rear light is the feu postérieur.
Lighthouses in Réunion are operated and maintained by the Direction de l'Environnement, de l'Aménagement et du Logement (DEAL). DEAL also maintains the lights of the French Southern and Antarctic Territories, which are described on a separate page.
ARLHS numbers are from the ARLHS World List of Lights. Admiralty numbers are from volume D of the Admiralty List of Lights & Fog Signals. U.S. NGA List numbers are from Publication 112.
A section of Phares à travers le Monde, the outstanding web site of Alain Guyomard and Robert Carceller; links to several pages on Réunion lighthouses.
Photos by various photographers posted by Alexander Trabas. Photos for Réunion have been contributed by Capt. Peter Mosselberger ("Capt. Peter"), Erich Hartmann, and Thomas Philipp.
Photos by various photographers available from Wikimedia.
Photos by various photographers available from Lightphotos.net.
Historic postcard views posted by Klaus Huelse.
Navigational chart information for Réunion.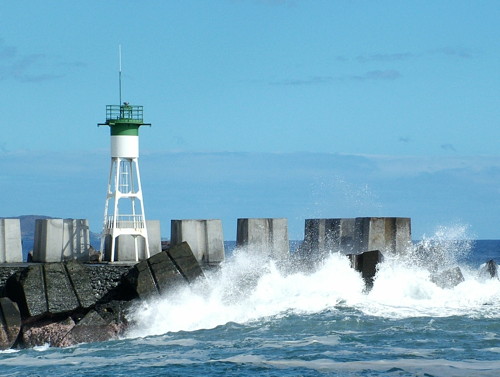 Jetée Sud Light, Port Réunion, June 2005
ex-Panoramio photo copyright Julie Alexandre; used by permission