The first cast iron lighthouse was built at Swansea, Wales, in 1803. However, it was many years before cast iron began to be used in lighthouse construction in the Americas. In 1841 a cast iron lighthouse prefabricated in England was built at Morant Point in Jamaica. In 1846 the British completed the Gibbs Hill Light in Bermuda, a 117-foot cast iron tower that remains in service today.
In the U.S., the relatively low cost of cast iron probably appealed to Stephen Pleasonton, the Fifth Auditor of the Treasury and the pinch penny supervisor of U.S. lighthouses. In any case, he authorized the building of a small cast iron lighthouse at Long Island Head, Boston Harbor, in 1844. Prefabricated by the nearby South Boston Iron Company, the tower was built in three sections 7 feet high. It was 12 feet in diameter at the base and only 6 feet in diameter at the top, so the lantern, perched atop the narrow tower, gave the lighthouse a "big-headed" appearance. This lighthouse was demolished in favor of a larger cast iron tower in 1881. A second cast iron tower, essentially identical to the Long Island Head tower, was built in 1846 on Lake Champlain at Juniper Island, Vermont. The Juniper Island Light remained in service until 1954 and survives today in private ownership.
Apparently encouraged by these successful projects, Pleasanton decided to use cast iron for three taller towers needed on the Gulf Coast. The 65-foot lighthouses were prefabricated by Murray and Hazlehurst, a Baltimore foundry, and erected at Biloxi, Mississippi, in 1848 and at Point Bolivar and Matagorda Island, Texas, in 1852. Construction of the two Texas towers was supervised by Hiram Runnels, the superintendent of lighthouses at Galveston, and the lanterns were installed by Calvin Knowlton, who did similar work at St. Marks, Florida, and other Gulf lighthouses.
These three towers are very similar in design to the Long Island Head and Juniper Island lights, with conical towers strongly tapering to a narrow top. The Biloxi Light, a miraculous survivor of the Civil War and countless hurricanes including Hurricane Katrina in 2005, preserves this design for us to see today. After the Civil War, the Point Bolivar Light was replaced, as we shall see, by a taller tower. The Matagorda Island Light was disassembled; when it was rebuilt in 1873, farther from the water, it was extended in height to 79 feet by adding a cylindrical section at the top. However, it still has the characteristic "big-headed" appearance of the Pleasonton towers.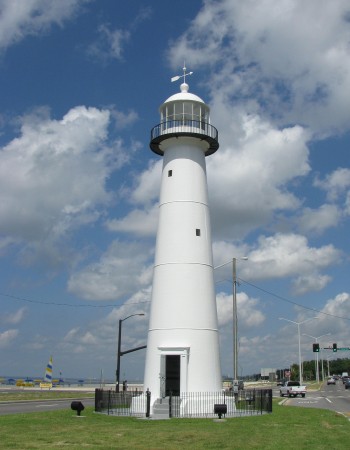 Biloxi Light, Mississippi, June 2010
Flickr Creative Commons photo by Natalie Maynor