In Virginia, Elzy Burroughs (1771-1825), a stonemason from Stafford County near Fredericksburg, contracted to build two lighthouses on the Chesapeake Bay, at Old Point Comfort and New Point Comfort. ("Old Point" and "New Point" are about 20 miles apart.) The two towers, built in 1802 and 1806, respectively, are nearly twins, both being about 55 feet tall. Both are built of sandstone quarried near Burroughs's home and shipped down the Potomac and Chesapeake to the two sites. These Virginia lighthouses have a striking resemblance to Woodward's light at Faulkner's Island.
Unfortunately, the two lighthouses haven't fared equally well in recent years. Old Point Comfort marks the entrance to Hampton Roads, one of the world's greatest harbors. The Old Point Comfort Light has been surrounded for nearly its whole lifetime by Fortress Monroe, a historic Army post. Never captured by the Confederacy, it is one of the few Southern lights to escape the Civil War unscathed. Still active, it has been carefully maintained ever since and is a well known and well loved landmark in the Hampton Roads area.
New Point Comfort, on the other hand, marks a point of land in rural Matthews County, between the York and Rappahannock Rivers. It was built on a small island just off the point, an island which has dwindled in recent decades to a mere sandbar. The light was deactivated in 1963. The keeper's quarters and the rest of he light station have disappeared into the Bay, and the tower has been battered by time, weather, and vandals. There has been work in recent years to restore the tower, but it remains on the Lighthouse Digest Doomsday List.
Burroughs bought the island on which the New Point Comfort lighthouse was to be built and then sold the lighthouse lot to the federal government. He also served as its first keeper.
Earlier, in 1803, Burroughs had also built the first lighthouse at Smith Point, the entrance to the Potomac River. Not much is known about this lighthouse. In 1807 Burroughs returned to Smith Point to relocate the lighthouse, which was threatened by beach erosion. The light was not very helpful to mariners, so it was abandoned in 1821 and has long since vanished.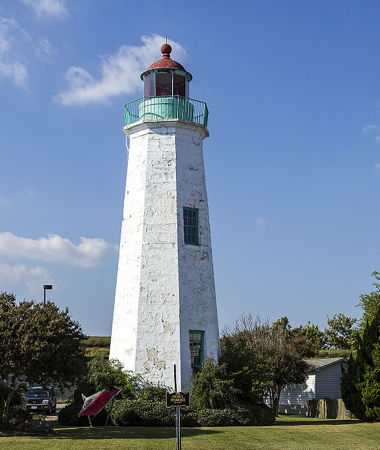 Old Point Comfort Light, Hampton, September 2013
Wikimedia Creative Commons photo by Acroterion