The Kingdom of Norway (Norge in Norwegian) is one of the world's most maritime nations. The country is long and narrow, with drowned valleys called fjords that bring the sea far inland in most regions. The mainland coast is estimated to be 2650 km (1650 mi) long and when all the islands and minor indentations are counted the total coastline approaches an astonishing 60,000 km (37,500 mi), long enough the go around the world one and a half times. With such a lengthy and rocky shore it's not surprising that Norway has a large number of lighthouses.
Norway is divided into 11 counties (fylker) and the counties are divided into townships (kommuner). Helgeland is the southernmost district of Norway's Nordland County; roughly speaking, it includes that portion of the country's northwest coast between Trøndelag (the Trondheim area) and the Arctic Circle. There are no major ports in the district, but there are many small fishing villages. The coastline is quite rugged and deeply indented by many fjords. This page includes lighthouses of the northern portion of Helgeland, including the townships of Rana, Lurøy, Træna, and Rodøy.
In Norwegian a lighthouse is a fyrtårn (fire tower) or simply a fyr; a fyrlykt is a beacon and a lyktehus is a lantern. Øy is an island, holmen is an islet, skjær is a skerry (a tiny island or rocky reef), sund is a strait (often between an island and the mainland), bukt is a bay, nes is a headland, and havn is a harbor.
Aids to navigation in Norway are maintained by the Kystverket (Coast Directorate), an agency of the Ministry of Transport and Communications.
ARLHS numbers are from the ARLHS World List of Lights. NF numbers are from the Norsk Fyrliste. Admiralty numbers are from volume L of the Admiralty List of Lights & Fog Signals. U.S. NGA List numbers are from Publication 115.
General Sources

News and photos from the Norwegian Lighthouse Association.
Photos by various photographers posted by Alexander Trabas. Many of the photos for this area are by Ronald Wöhrn, Michael Boucher or Arno Siering.
Excellent photos of more than 60 Norwegian lighthouses.
Photos taken by Charles W. Bash on a 2010 cruise from Bergen to North Cape.
Photos posted by Bernd Claußen.
Photos by various photographers available from Wikimedia.
Historic postcard images posted by Klaus Huelse.
From Wikipedia, a handy list of Norwegian light stations with their dates of establishment.
The official Norwegian light list can be downloaded in six .pdf volumes.
Navigation chart information for Helgeland.
Navigation chart for Helgeland.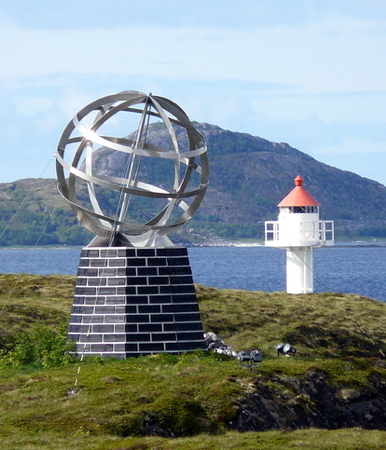 Arctic Circle Monument and Vikingen Light, Rødøy, June 2010
ex-Panoramio Creative Commons photo by Kasos