The U.S. state of Louisiana is located on the Gulf of Mexico at the mouth of the Mississippi River. New Orleans, located on the river about 100 miles (160 km) above the mouth, is the state's largest port; other ports along the south coast serve offshore oil platforms. The state's coastline is everywhere low and marshy, posing a challenge for lighthouse builders.
On 29 August 2005 Hurricane Katrina devastated the city of New Orleans and all of the eastern half of the Louisiana coast. On 24 September Hurricane Rita swept through Cameron Parish at the western end of the state, swamping most of the coast that Katrina had missed. These twin disasters left Louisiana reeling.
The New Canal Light in New Orleans was badly damaged and later collapsed. The historic Chandeleur lighthouse and the old West Rigolets lighthouse vanished completely. But this was in a state where lighthouses have been gravely endangered and failing for a long time. In addition to New Canal, Chandeleur, and West Rigolets Lights, the Point au Fer Reef, Timbalier Bay, Oyster Bay, Frank's Island, Pass Manchac, and Southwest Pass Entrance Lights have all been lost in the last 30 years, and there remain five more Louisiana lighthouses on the Lighthouse Digest Doomsday List. (Note: here and elsewhere in the Directory the symbol # indicates a lighthouse lost since 2000.)
Before the 2005 hurricanes preservation efforts had begun for at least four historic towers, at Madisonville, Pass Manchac, Port Pontchartrain, and Sabine Pass. Unfortunately, progress had been very slow and after the storms it nearly stopped. It has been a struggle to get these efforts going again.
Navigational aids in the United States are operated by the U.S. Coast Guard but ownership (and sometimes operation) of historic lighthouses has been transferred to local authorities and preservation organizations in many cases. Louisiana lights are the responsibility of the Coast Guard's Eighth District based in New Orleans.
ARLHS numbers are from the ARLHS World List of Lights. Admiralty numbers are from volume J of the Admiralty List of Lights & Fog Signals. USCG numbers are from Volume IV of the U.S. Coast Guard Light List.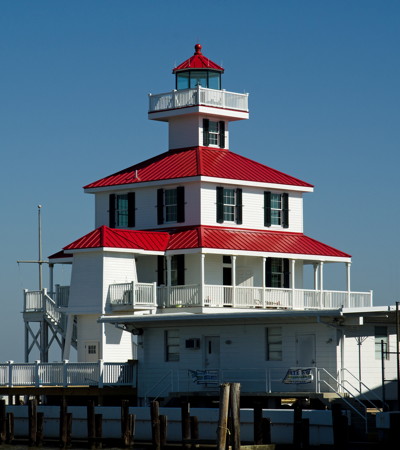 New Canal Light, New Orleans, November 2012
Flickr Creative Commons photo by hatchski