This page lists of lighthouses of the south coast of Mexico in the states of Chiapas, Oaxaca and Guerrero. This coast includes the famous resort city of Acapulco and many smaller ports.
There are very few tall lighthouses along this coast. Tall towers aren't needed because in most places the coastline is high, and navigational lights can be mounted high on the bluffs and headlands.
Tourism is a major industry on much of this coast, but only a few of the lighthouses are tourist attractions. As a result, photos and visitor information are rather scarce on the Internet. If you have information on any of the lighthouses of Mexico, or photos you would be willing to share, please let me know.
Mexican lighthouses are managed by the merchant marine directorate (Dirección General de Marina Mercante) within the Secretaría de Comunicaciones y Transportes, the cabinet agency that also manages the country's airports and seaports. Many of the larger light stations are staffed by resident civilian keepers.
The word for a lighthouse is faro in Spanish; smaller lighthouses are sometimes called balizas (beacons). Cabo is a cape, isla is an island, and bahía is a bay.
ARLHS numbers are from the ARLHS World List of Lights. CF numbers are from the Mexican Cuaderno de Faros (Handbook of Lighthouses). Admiralty numbers are from volume G of the Admiralty List of Lights & Fog Signals. U.S. NGA numbers are from Publication 111.
General Sources

Photos by various photographers posted by Alexander Trabas. The photos from Huatulco and Acapulco are by Rainer Arndt.
Photos by various photographers available from Wikimedia.
Photos by various photographers available from Lightphotos.net.
Historic postcard images posted by Klaus Huelse.
The Mexican light list can be downloaded in two volumes, Atlantic and Pacific.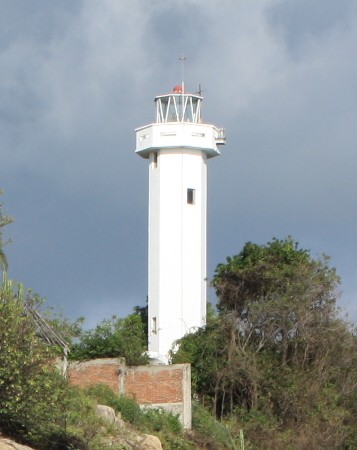 Puerto Escondido Light, Puerto Escondido, November 2009
Flickr Creative Commons photo by David Cabrera